All My Children Recaps: The week of September 1, 2003 on AMC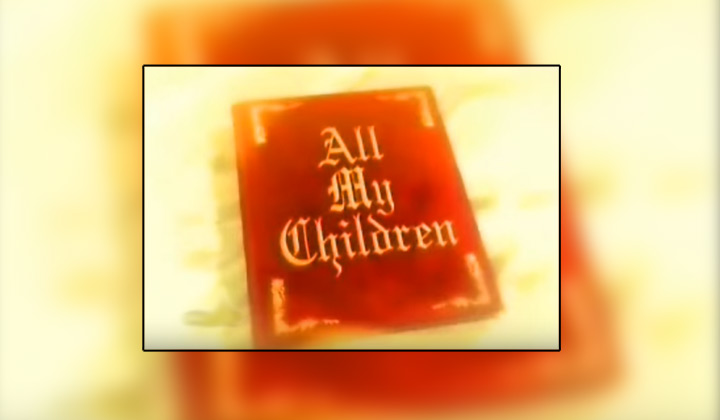 Monday, September 1
Due to the Labor Day holiday, ABC aired a repeat of February's Fan Fantasy episode in place of an original episode. This preemption was planned and there will be no lost episodes. Regular programming will resume on Tuesday, September 2nd and pick up where Friday, August 29th's episode concluded.
Tuesday, September 2, 2003
Tad and Liza were at the Valley Inn, with Tad opining that people drink Flaming Gauchos in Argentina. Liza tried to guess what news Tad had uncovered about Juan Pablo and was surprised to learn that he is protecting a murderer as Tad explained Carlos' secret. Tad said he didn't hate the brothers, but was only worried about Liza and the other women of Fusion. Tad didn't think the women should be so gullible about a great looking man, just because he's smooth and charming, with a good line. Liza smiled and asked Tad to lay off. Liza excused herself for a date with Alfred to play strip chess and some hot "philatelling." Tad warned her to not knock his stamp collection and then got a call from Mia. He told Liza he has a date too, to help Marian with a kama sutra quilt.
Juan Pablo and Greenlee came in with a scheme to find out the truth about whether Jack knew all along he was her father. Greenlee gleefully told the hotel staff that her mother is now penniless. Mary was waiting impatiently in the bar for her champagne when the bartender told her that her tab was closed. Enter Juan Pablo to gallantly offer to pay for whatever Mary wants. They drank champagne and he feigned surprise to learn she is Greenlee's mother. He flirted shamelessly and explained he only saw Greenlee as a business associate. She called him a terrific mood enhancer. They discussed Argentina and the wild and exciting lifestyle there. He explained polo was his second favorite activity and Mary said she was woefully inexperienced...about polo. Greenlee called Juan Pablo to see if Mary was eating out of his hand yet and if it was time to set the trap. Juan Pablo said yes and then told Mary he had to make some business calls and promised to see her at 8, in her suite. Enter Greenlee, acting forlorn about Jack and the truth. Mary warned Greenlee that Jack would never admit that he'd known all along about the pregnancy. Greenlee reached out to Mary, who was very happy to have a fresh start at a mother-daughter relationship. Greenlee wanted assurance that Mary wouldn't forget her as soon as an attractive man caught her eye. Just then, the manager came over to request immediate payment of Mary's bill. Greenlee paid the bill and Mary was very grateful. Greenlee suggested they have dinner together, at 8 p.m. Mary agreed, then left and saw Juan in the lobby and confirmed their date. Later, Greenlee and Juan Pablo discussed the conflict and Greenlee guessed her mother would choose dinner with Juan Pablo and then she would know she was lying about Jack.
At Erica's, Jack questioned Reggie about why he thinks Michael Cambias is dead. Reggie covered by saying he just thought Jack looked like someone died and Reggie hoped it was Michael. Jack said Michael had left town. Maggie chimed in to say "like hell he did" and then explained he couldn't have left with all the charges pending. Jack told everyone about the drugs found at Michael's and how it seems he's left town. He apologized to Bianca, who was only glad she never has to see him again. Then Bianca nearly fainted and asked to speak to Jack alone so Reggie and Maggie left. Bianca was clearly concerned about Erica and wanted assurance that Jack still loves her and won't let anything stand in the way of their happiness. She defended Erica and her keeping the secret of Greenlee's paternity. She insisted that Jack stand by Erica and forgive and protect her. Bianca had trouble getting it out, but finally told a very surprised Jack that she is pregnant.
Maggie sat in her dorm room, worrying about Bianca. Henry came by to tell her he is going on tour with his band. She was happy for him, and also that his mother seemed excited for him and promised to come to a concert. He thanked her for her love and friendship and helping him believe in himself.
Aidan and Mia were at the Fusion office, very worried about Michael and Kendall's whereabouts. Aidan was worried that Kendall had committed murder and told Mia about the poisonous flowers, the venomous snake, and the knife. He also stated that the drugs at Michael's were a setup and asked for Mia's help to find Michael and Kendall. Mia called in the cavalry, a.k.a Tad. Tad started the search in Las Vegas since Alexander recently died there. They found evidence of two people traveling together and Tad called a contact at the airlines and learned that Michael and Kendall had flown together to Las Vegas.
In a Las Vegas hotel lobby, a stunned Kendall watched Ryan from behind a valet cart and when she knocked over a stack of luggage, Ryan turned to look. Ryan rushed to the aid of the woman injured when the luggage toppled over. Kendall had words with some of the hotel staff, until she convinced them she was someone important by writing a name on a slip of paper. Ryan left and she grilled the staff about Ryan and learned he'd just checked out after a several week stay. She then left with a man in a suit (whose face was not visible), saying they'd better hurry or they'd be late. When she returned to the lobby, she muttered that it was done and it had all been taken care of. Then she nearly came unglued when she noticed a drop of blood on her white shoe. Meanwhile, Ryan booked a one-way flight to Pine Valley.
Wednesday, September 3, 2003
At Juan Pablo's room, Greenlee sat on the couch while he made her a drink. He said that maybe they shouldn't go on with their plans but Greenlee said she had to know who the bigger liar was. Juan Pablo said he was supposed to meet Mary at 8pm and Greenlee said if Mary shows up they'll know Mary's the liar and doesn't really want a relationship with her daughter. A knock on the door startled them and Mary Smythe called from the hallway "Juan Pablo? Are you there?" Greenlee scurried into a closet and Juan Pablo opened the door. Mary waltzed in and asked whose voice she heard. He claimed it was the tv and then asked what she was doing there. Mary said she couldn't meet him at 8pm because her daughter needed her. Juan Pablo said he was free all night and Mary said she'd come over later. She smiled seductively at him and left. Greenlee came out of hiding, surprised that her mother was keeping their date rather than the one with Juan Pablo. Later Greenlee and Mary sat down at the Valley Inn for dinner. Mary prattled on about Greenlee's childhood, and saying how proud she was of her daughter. Jack walked in and apologized to Greenlee for blowing her off earlier. He said they could talk about whatever Mary had said to her to upset her and Mary looked nervous. Greenlee wanted to talk but Mary told Jack they were having a mother-daughter evening so Greenlee agreed that now wasn't the right time. Jack seemed hurt but said he'd leave. Greenlee promised to talk to him later. She turned to her mother and asked if she had lied about Jack knowing she was pregnant. Mary sent Greenlee on a guilt trip so Greenlee backed down. She said maybe they should quit while they're ahead and call it a night. Mary quickly agreed and Greenlee said she'd get the bill. Mary kissed Greenlee and left. Juan Pablo joined Greenlee, who said she still didn't believe her mother. He said he'd give her a full report in the morning. Greenlee said "Not while there's a perfectly good closet at your place!" and they left together. At his place Greenlee reminded him that she'd be watching everything from the closet and that "I've been traumatized enough lately!" Juan Pablo laughed and a knock on the door forced Greenlee into her hiding place. Mary came in wearing a beautiful party dress. Juan Pablo showered her with compliments and got her a drink while Greenlee watched.
In the penthouse Bianca struggled to tell Jack about the pregnancy. She apologized for having to tell him and then asked if it was considered evidence. She said everyone knows she doesn't have sex with men so they'd know she was forced. Bianca said she'd take the stand again because they had to stop Michael. Jack said Michael had already been stopped. Bianca asked where he was and Jack said Michael had run off and the police found drugs in his condo. Jack said when they find Michael he'd be able to put him away for a long time because of the drugs. Bianca was worried that he'd skip the country and Jackson said Michael had enough enemies that maybe someone would take care of him for everyone. Bianca said she didn't know how to tell her mother about the pregnancy. Jack asked if she'd considered termination. Bianca said that was what most women would do in this situation and her uncle said he'd stand by her no matter what. Bianca said she didn't know what to do, she'd been thinking about Kendall. "What if Mom had terminated her pregnancy, there'd have never been a Kendall?"Jack told her that she had to do what was best for her and that she still had some time to think about it. "You have to make this decision alone but you don't have to go through it alone" he told her. Bianca picked up a photo of her mother and said "Mom, I'm pregnant by the man who raped me." She shook her head and said she couldn't do it. Jack said her mother would support her no matter what but Bianca said "Can you imagine the look on her face when I tell her?" Jack argued with her and said that Erica had kept a secret from him and look where it got them. He said that what Bianca has to tell Erica will hurt her but it would devastate her if she found out that Bianca thought she couldn't come to her. Jack offered to be with Bianca when she tells Erica. Bianca hugged him and said she felt better having told him. Jack told her to get some rest and said she was the most important thing in the world right now. Bianca stretched out on the couch and he covered her up, kissed her and left. Bianca fell asleep and dreamt of a baby in a crib. She walked over to it and started to smile until the baby's face turned into Michael Cambias's. She screamed and woke up. Bianca picked up Erica's photo again and said "How can I tell you this? Will you be able to survive it?"
Kendall sat alone on the airplane and stared off into space. Ryan walked into the coach cabin and was surprised to see her. He quickly ducked behind the curtain and watched her until a flight attendant told him to take his seat. He sat in first class as Kendall asked the flight attendant for some sort of stain remover for the spot she got on her shoe. The flight attendant looked at Kendall's shoe and said it looked like blood. Kendall said it couldn't be but the woman offered to get hydrogen peroxide to clean it. Kendall returned to day dreaming and thought about seeing Ryan in Vegas. Then she remembered the day he proposed and gave her the ring Chris Stamp had given Ryan's mother. Meanwhile Ryan thought about seeing Kendall undressing for Aidan at the penthouse. Kendall then remembered the same event and finding out that Ryan was leaving. She thought about standing in the rain that night and crying as Ryan sped away on his motorcycle. The flight attendant interrupted Ryan's thoughts when she told him they were beginning their descent into Pine Valley.
At Fusion Tad told them that his friend at the airport said Kendall went voluntarily with Michael to Vegas. Mia couldn't believe it and told Simone and Liza about it as they walked in. Tad took Aidan to the side as the women discussed Kendall. Tad said Aidan would best know what Kendall might be thinking and wondered if Kendall went with Michael so she could kill him. Aidan said if he knew something he'd tell Tad but Tad didn't really believe him. Tad told Aidan he'd better find Kendall before she did something she couldn't take back. Liza asked Tad if his informant could be wrong and Tad said he'd double check with her. Tad called the airport while the rest of them talked more about Kendall. Simone wanted to go find Kendall but Liza said they should let Tad do it and they should take care of Fusion. Mia and Aidan agreed. Tad got off the phone and told them Kendall was on her way home and he was going to meet her at the airport. Mia and Simone said they were coming too but Liza said they had to stay and work on the contest. Tad and Aidan walked to the elevator. Simone grabbed some folders and declared they needed to be overnighted and ran onto the elevator. Mia picked up some papers and said Simone forgot them and ran to the stairs. Liza gave up and followed along.
David and Anna sat at a table together. David was happy they were together, kind of like a date. Anna was distracted and said she was obsessing about the Michael Cambias case. She told David that Kendall went with Michael to Las Vegas willingly. They chatted while eating but were disturbed by Anna's phone. She told David they had found Kendall but not Michael. She said she'd have to cut their date short and go to the airport to meet the plane. David said he was going with her and they left together.
Tad, Aidan, Liza, Mia and Simone stood together at the gate waiting for Kendall to deplane. She walked past the ticket counter and Mia and Simone ran over to her. They demanded to know why she had gone to Vegas and who she'd gone with. Kendall just smiled. Ryan stood off to the side with his face turned but listening to everything. Anna came over to Kendall and said she had some questions and wanted Kendall to come to the station. Kendall said she could talk right there. Mia asked "What did you do to Michael?" Kendall raised her left hand, which sported a huge wedding set and said "I married him!" to the absolute horror of everyone waiting there.
Thursday, September 4, 2003
At the airport Kendall told everyone that she was married to Michael. She showed them the rings on her finger and said "well don't everyone congratulate me at once." David laughed and said he didn't believe her, nor did anyone else. While Ryan hid and listened, Kendall provided a marriage certificate to prove that she really did marry Michael. Anna said that she had questions for Kendall to be answered at the police station.
Mia and Simone listened to all Kendall had to say in disbelief. When Kendall left with Anna, Simone realized that she had lost their own sexy man contest and started whining that she just lost 3 months pay. Liza told Mia that she didn't and there were more important things to worry about right now than losing some bet. Mia offered to take Simone and buy them some drinks. As long as Mia was buying, Simone was game.
Tad and Liza stayed behind at the airport. Liza told Tad that the news of Kendall marrying Michael, if true, would destroy Bianca and Erica when they found out. Tad noticed Opal was in the airport and called out for her. Opal was trying to ignore him but to no avail. Seeing that Palmer and Opal were together Tad said he hoped this didn't mean they were back together. Palmer said Good God No! Opal said they were in the Windy City shopping for Petey. Tad asked what they bought, Palmer said a bike and Opal said a computer...and then added the bike. Palmer said the car was waiting so they had to go. When they left Tad asked his friend at the airport to check into where the Cortland jet had been. Moments later his friend whispered in his ear and Tad thanked her. Tad told Liza that the jet had logged many flight hours in the last week and that one place was a remote area in Canada. He also told her that a man fitting Adam's description was seen getting off the plane and he doubted it was Stuart. Tad looked at a Tahiti sign and asked Liza if she wanted to go with him to Tahiti. She said she was not spending 20 hours sitting next to him on a plane. Tad said it was better than being in Pine Valley with everything was weird. Palmer aligned with Adam. Kendall married to Michael. Liza shivered. Tad said that chill you just felt was hell freezing over.
Mary was coming on very strong with Juan Pablo. He sat down on the couch and said he wanted to talk. He asked Mary to tell him about Greenlee. She asked "you want to talk about Greenlee...why are we talking at all." He said he wanted to get to know her. He complimented her on how she looked. Greenlee, who was in the closet listening to all of this called him on the cell phone and told him it was time to get rid of her. Juan Pablo started yelling something Spanish into the phone and then hung up. He apologized for yelling to Mary who seemed to be turned on by it. She started unbuttoning his shirt and he told her that he had a business emergency. She continued to try to undress him but he insisted that she leave and he'd see her another time. When Mary was finally gone from the room Greenlee came out of hiding and told him he better double lock the doors. He asked why and she told him that if he didn't Mary would wake him up nibbling on his ears. He laughed. She told him that she was serious. She was trying to believe that Mary wasn't lying to her but Juan Pablo told her that it was too soon to tell. They walked over to a mirror and he asked her what did she see. She said "me." He told her to look deeper, he saw a beautiful intelligent woman with a good heart.
At the police station Anna, Kendall and Aidan were in Anna's office. Anna said they were waiting for the DA to arrive. Kendall asked if she really called Jackson. Anna said yes and at that moment Jack walked in and said he had to get his cell phone checked because he had heard Kendall married Michael. Kendall said that was right. He told her she was lying. Anna asked how he knew. He said because he knows Kendall hates Michael and that Kendall's goal had been all along to get in the good graces of her mother and she accomplished that. Kendall said "I need a new goal." Anna wanted to know from Kendall how the marriage came about. Kendall said that after the trial that night she went to see Michael and he was packing to leave. She said that she asked him to give Fusion and Enchantment back to her friends and her mother. He refused. She said she then gave him an offer he couldn't refuse. She asked him to marry her that way he could skip town, giver her power of attorney of his money that way she could send him some. She said he was more than happy to do that when he found out his father died. Anna didn't believe her; but asked where Michael was hiding. Kendall said she didn't have to tell her anything because she was Michael's wife. Kendall asked if she was being arrested and Jack said no. Anna was shocked. Jack asked Kendall if she was going to tell Erica about marrying Michael and she said no she would let her find out on her own it was more fun that way. Kendall told Aidan she didn't need his services anymore then left. Anna asked why they didn't charge Kendall with anything and Jack told her because she didn't commit a crime. Jack added that Michael left on a commercial airline in his own name the person Anna should question is the officer in charge of watching him that night. Anna went out to speak to Officer Ramirez and asked him how Michael got away from him. The officer told her that he had orders from her that he was to leave. Anna said she didn't give that order and wanted to know who went over her head. She walked over to Jack and looked at him; puzzled.
Maggie went to the cabin to see David. She noticed his face and asked what had happened. He told her he was injured changing his tire. They went inside and she asked if their conversation could fall under doctor/patient privilege and he said sure. She asked him if she knew something about someone should she tell the police. He said that he was a person of conditional ethics. She asked what he meant. David told Maggie it depends on the conditions of what the problem is. She said that if she new something about Michael should she tell the police. David told her that if what she knows would benefit Michael then no, she shouldn't say anything because Pine Valley was better off with out him.
Kendall arrived outside the condos. She pulled off her shoes and threw them into the trash can. She went inside Michael's condo and fell to the floor on her knees and started to cry. Ryan was outside and had his hand on the door knob.
Friday, September 5, 2003
Kendall is sitting on the floor, crying in Michael's house. Ryan is looking on from outside the door and starts to turn the knob. He hesitates and backs away when Kendall gets up and notices a red spot on the wooden floor. Ryan continues to look on and watches Kendall grab a tissue and tries to scrub it away. She gets up and pulls out a bottle of water from the refrigerator and some paper towels. She bends down and successfully gets the spot out of the floor. When she sits down, someone touches her shoulder from behind and startles her. She whips around and sees Aidan. Kendall scolds him for sneaking up on her and demands to know why he is there. Aidan tells her that he is worried about her and wants to know why and if she really married Michael Cambias. Kendall avoids answering him by telling him to leave. Next, Aidan asks where Kendall's shoes are because she was walking around in bare feet. Kendall tells him she likes to walk around without shoes, but Aidan doesn't believe her. He gives her a hug and begins to kiss her neck. She turns around and they share a kiss on the lips. When Ryan sees them kissing, he walks away from the house. After the kiss, Aidan tells Kendall that ?either you married him and killed him or you didn't marry him and just killed him.? Kendall is appalled at his accusation and Aidan points out that she wouldn't give up her relationship with Erica or Bianca for some flimsy marriage with the man who raped her sister. He continues to tell her that she wouldn't betray her friends just to get Fusion back. Kendall says to Aidan that he doesn't really know her and she was tired of sucking up to Erica and Bianca. She tells him what really happened when she talked to Bianca after the trial and thinks that Bianca blames her for the rape. Aidan still doubts her and doesn't believe she would choose money over her family. Aidan begs to Kendall to let him help her through her tough time, but Kendall just barks at him to get out! Edmund shows up at Michael's house and asks Kendall for an interview for Tempo. She happily agrees but tells him that they should conduct the interview over a very fancy and very expensive dinner.
Ryan goes to visit his father's grave. He stumbles upon Maria, who is placing flowers on Chris's grave. Ryan recognizes that it is Maria, but doesn't tell her and Maria doesn't know that Ryan is Chris's son. Ryan says that she should be more careful because it is late at night. Maria thanks him for his concern, but assures him that she visits the graves once a week and is used to be around ghosts. Ryan asks her how she knew Chris. She tells him that Chris is a "hero" because he saved Maddie's life. Maria leaves and Chris leans down onto the grave. He talks to Chris and tells him that he should have come back to Pine Valley sooner to protect him. "I guess you turned out to be the man I always knew you were," he says.
Greenlee begins to ask Juan Pablo a question, but turns away and says, "I should go." Juan Pablo tells Greenlee that she can ask him anything. Greenlee asks him what he wants. Juan Pablo says, "What do you think I want?" Greenlee says, "nothing" and tells him that he can have any woman he wants. Juan Pablo asks Greenlee to stay longer, but she tells him she has to go because she has a long day tomorrow, since the Fusion's Sexiest Man Contest is almost over. She thanks him for his help and he kisses her hand. She says she'll call him and goes to The Valley Inn Bar/Restaurant where Simone and Mia are having drinks. When Greenlee joins them, she is happy and giddy and toasts to "the power of love." Mia and Simone look at her like she is crazy and realize she doesn't know about Kendall's marriage to Michael. They tell her the story and although Greenlee is shocked, she hopes that Michael never returns to Pine Valley. Simone is devastated because she thinks Kendall has won the bet, which means she out 3 months pay. Greenlee assures Simone that Kendall hasn't won the bet because she doesn't love Michael and marriage was not part of the bet. Simone is relieved and they all decide to call the bet off!
Jackson goes home and calls Erica, but gets the answering machine. He leaves her a message and tells her to call him back immediately. Reggie comes into the living room with a suit in one hand. He reminds Jackson that tomorrow is the day he will officially become Jackson's adopted son. Jackson doesn't seem that excited and tells Reggie that he has a lot on his mind. Reggie tells Jackson that if it is about Michael Cambias, he has a right to know. Jackson is surprised by Reggie's reaction and asks him why he has a right to know. Reggie quickly says that he is a part of the family and wants to protect Bianca. Then he blurts out, "I'd do it again.? Jackson asks why he means by that statement but Reggie brushes him off. Jackson goes to his room and when he comes back he tells Reggie that his safe is open and his gun is missing. Reggie immediately assumes that Jackson is accusing him of stealing his gun. Reggie gets angry, throws the suit on the couch, and tells Jackson to forget about adopting him. Jackson tells him that he isn't accusing him of anything and says, "You'll be my son whether you like it or not and if you say you didn't take my gun, I believe you." Reggie believes Jackson and tries on his suit. Jackson tells him he looks good but needs to ask him one question. Jackson asks him if he was with Bianca all night after the trial. Reggie says, "I protected Bianca all night just like you asked." Reggie goes to bed and Jackson tries calling Erica again, but gets no answer.
Erica shows up at David's house, looking worried and frantic. She tells him that she can't find her date book. She thinks she lost it the day of Michael's trial and "if its lost, there is no telling where is may have ended up." David and Erica look for the date book, but are unable to find it. David tells Erica about Kendall's marriage to Michael. Erica is shocked and doesn't seem to believe it. David tells her that Kendall has a marriage certificate and has been telling everyone about the marriage. Anna walks in, Erica thanks David for his time and leaves. Anna complains to David about the Michael Cambias case. She says she hates the case because everyone is lying to her, even David. David asks her if there is anything he can do to help her. Anna says, "You can help by confessing what you've done, but I don't want to hear it.? David tells her to mark the case closed and forget about looking for Michael. Anna remembers their wedding day and how she was able to forget about everything he did for that one night. Anna asks David if he ever wanted to go back to that day and find what they had. "Or maybe it is gone forever," she says sadly. David tells her that he doesn't want what they had to be gone and then Anna goes to bed.
Juan Pablo takes a shower before he goes to bed. After he takes a shower, he slips in his bed and is shocked to find Mary in there with him!
As Kendall shows Edmund out of the house, Erica shows up. She angrily asks Kendall if she is married to Michael Cambias. Kendall proudly confirms that Erica has heard correctly and Erica responds by slapping her across the face.