The 33rd ANNUAL DAYTIME EMMY AWARDS
Y&R Writers Win, GH Threepeats in Directing
by
Dan J Kroll
Posted Saturday, April 29, 2006 12:27:03 AM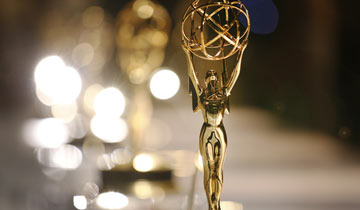 The Young and the Restless
(Head Writer: Kay Alden and Jack Smith )
The Young and the Restless entered the night as the clear favorite. With a storyline revolving around the death of a core character -- a child, no less -- the show was expected to sweep most of the categories in which it was nominated.
Things got off to a good start when the show's writing team earned top honors for writing the storyline that focused on young Cassie Newman's death. The win was an important win for the show, as it was the first win since the death of the show's creator, the legendary Bill Bell.
"We definitely feel Bill's presence tonight," smiled head writer Kay Alden. "He is smiling down and we're happy about that."
The decision to kill off a child was a big risk for the CBS soap -- and that was not lost on Alden.
"It was one of our quintessential heartbeat episodes," Alden explained. "There was extraordinary power in the death of Cassie. This really is like playing God."
It is one thing to write a good episode, but another to see that episode played out on the screen. Alden praised the show's cast for far exceeding her wildest expectations as to how the plot would unfold on the small screen.
"You hope for an actor to go beyond what they've ever done," Alden continued. "They brought [the story] to life."
The Young and the Restless has received 20 nominations in the Outstanding Writing category. This was the show's fourth win. The show last won the Emmy in this category in 2000.
---
IN-DEPTH
Learn more about Sheffer's exit from As the World Turns.
---
OUTSTANDING DIRECTING TEAM
"I would really like to thank our director for supporting us in our contribution to the team," said production associate Lisa Kaziff. "And we especially want to thank our fearless leader, Jill Farren Phelps."
Added DeeDee VanCleef, "And thanks to our fantastic writing team, our amazing crew and our families, because without them, we wouldn't be here."
General Hospital submitted two episodes from its May Sweeps train-wreck storyline. This was the show's fifth win in 14 nominations. The show has created somewhat of a dynasty in recent years, having won the Outstanding Directing Team the past three years.