THE 36th ANNUAL DAYTIME EMMY AWARDS
soapcentral.com panelists predict the Emmy winners: Lisa Svenson
by
Dan J Kroll
Posted Sunday, June 15, 2008 5:21:37 PM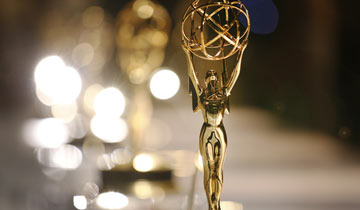 Lisa Svenson is possibly the only person who works for Soap Central who is not a viewer, although she is now more conversant in the ins and outs of all the soaps than the average person on the street. Lisa has been serving as editor for the site since January 2008, so her guesses, while not based on performance, do not need to be as random as they have been in previous years, when she has used fluid dynamics, aerodynamics, and pets, among other pseudo-scientific prediction methods, to determine her picks for Emmy winners. Her experimental picking processes have been met with mixed results.

Previous Predictions
2008: 0 for 8

2007

: 3 for 8


2006: 0 for 8
2005: 3 for 8
2004: 1 for 8
2003: 0 for 8
2002: 1 for 8
2001: 2 for 8
---
OUTSTANDING DRAMA SERIES
Days of our Lives

Days of our Lives: Other than Passions, which is no longer on the air, during my time of editing, this has had the most implausible plot devices. It seems to be tamer now, but I hold out hope that there are more surprises in store for me. The Bold and the Beautiful had potential, because the more I read about it, the more I think the family trees on the show are linear or circular, rather than branching out like other families, and really, relations between family members are pretty dramatic. But I'm still going with Days. Plus, they've managed to come back from the edge of the cliff-they're making it without their big stars, and they're stronger than they've been in a while. Isn't the cliff a soap standby?
OUTSTANDING LEAD ACTOR

Christian J LeBlanc

Michael Baldwin

I have no idea what his acting is like, but he seems to work frantically to help out those he loves, as well as those for whom he is the all-purpose lawyer. Of the actors available, his character seems the most consistent, least driven by whim, and most likeable. I know he's got history (everyone who's interesting does), but he seems to have conquered his demons, more than being steered by them.
OUTSTANDING LEAD ACTRESS
Debbi Morgan

Angie Hubbard

If there were a saint award, Angie would earn it. Letting her long-lost husband's mistress and love child stay in her home, helping the mistress through a major health crisis, treating the love-child as a valued member of the family, facing her son being sent off to war, and still functioning as a top-notch doctor-balancing all those roles while still wearing the halo earns her my vote.
OUTSTANDING SUPPORTING ACTOR

Bradford Anderson

Damien Spinelli

Okay, moment of honesty. Spinelli speaks to the geek inside me. My inner geek might be hidden a little better, but at heart, I feel as socially awkward as Spinelli is sometimes. I think we all do. We all worry about babbling or saying something absurd, we all do babble and say absurd things. There's a little Spinelli in all of us. I imagine the role is fun to play.
OUTSTANDING SUPPORTING ACTRESS
Julie Pinson

Janet Ciccone

Janet married the brother of her high school sweetheart, who fathered her teenaged daughter. Her husband is hung up on his ex-wife and her issues. She suffers from jealousy, but it's probably justifiable. It seems as if hardships follow her, and have for a long time, but she still hangs in there and is sensible and solid. I wouldn't blame her if she snapped one of these days.
OUTSTANDING YOUNGER ACTOR

EJ Bonilla

Rafe Rivera

None of these characters spoke to me in a loud, clear voice (going on story, not what I've seen, because I've seen nothing). So I will go with EJ Bonilla. It has to be hard losing your newfound father, having his heart go to the woman who caused trouble in your parents' marriage, shooting someone by mistake (after planning to shoot him), going to jail, serving your time, approving of the man your mom plans to marry, then learning that the woman who has your father's heart is in love with your mom-and your mom is in love with her. This kind of stuff never happened in my family when I was growing up. It makes me a little sad inside.
OUTSTANDING YOUNGER ACTRESS
Julie Marie Berman

Lulu Spencer

Aside from the rough name, Lulu seems drawn to the bad boys, very consistently. This is actually not a surprise when one looks at her parenting. She had that whole psychotic break for a while, then got her mother to recover from a catatonic state, even if it's only temporary. She has a love/hate friendship with Maxie, which rings true from the reading side. We all hate the people we love a little bit; we all love the people we hate a little. Otherwise, we simply wouldn't care.
OUTSTANDING WRITING IN A DRAMA SERIES
All My Children

My reason is based on the others. The Bold and the Beautiful, too much inbreeding. General Hospital, heavy mob focus. One Life to Live, Todd. All My Children had the whole tornado, coma, learning your sister had your husband's baby thing. The turkey baster hardly makes that cool to wake up to. There are some things we want to know BEFORE they happen. Then there was the Greenlee is maybe dead storyline, Annie's extended vacation from sanity, Erica's celebrity jail spree, lots of strange little things that happened since I started reading recaps. Plus, no Todd, Sonny, or Nick.
---
MAKING HEADLINES: SOAP OPERA NEWS, UPDATES, AND HEADLINES