THE 36th ANNUAL DAYTIME EMMY AWARDS
soapcentral.com panelists predict the Emmy winners: Tony S
by
Dan J Kroll
Posted Sunday, June 15, 2008 5:21:37 PM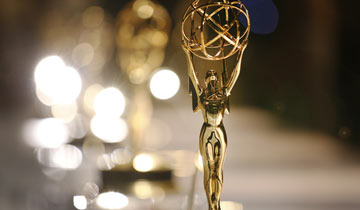 Tony is back from the dead and just in time to take a sophomore swing at Emmy predictions. He hopes to up his score this year (as well as to someday figure out how to stop his evil twin from impersonating him so often). When not guessing award-show outcomes, he's one half of Soap Central's Days of our Lives Two Scoops dynamic duo. In his free time, Tony enjoys writing, movies, and urban hiking...when not battling his previously mentioned evil twin for control of his wildly successfully corporate empire!
Previous Predictions
2008: 1 for 8
---
OUTSTANDING DRAMA SERIES


Days of our Lives

Now, I'm not falling prey to nepotism because I was legitimately torn between all three choices, but my prediction is that Days Of Our Lives will make an Emmy comeback this year. The show really bounced back from a slump and created some pretty powerful storylines throughout 2008. From tragic plane crashes to pancreatic transplants to funny Film Noir fantasies, Days played a great game, and I'd be surprised if it didn't walk away MVP come the 30th!
OUTSTANDING LEAD ACTOR

Christian J LeBlanc

Michael Baldwin

Since Anthony Geary won last year, one can only assume Christian LeBlanc will walk away a winner this time. Okay, I kid about the alternating Emmy wins between these two powerhouses, but I stand by my LeBlanc selection. He manages to steal his scenes, not in a showy way, but simply because he's that good. I'd be thrilled with a Peter Reckell upset, but, at the end of the night, I think LeBlanc will add another trophy to the mantel.
OUTSTANDING LEAD ACTRESS
Susan Haskell

Marty Saybrooke

This category is like going to Baskin Robbins and having to narrow things down to just one delicious flavor. In the end, I choose a double scoop of Susan Haskell. With all due respect to Christina Chambers (whom, as Maria on Sunset Beach, I was a big fan of), having Haskell back in the role of Marty really brought the character "home." Her return was one that One Life fans were hoping for, and she didn't disappoint. Sure, the storyline caused some controversy (again), but, more importantly, Haskell got to re-explore Marty's rich, albeit tortured, history as well as blaze new trails in what I'm guessing will be an award-worthy way.
OUTSTANDING SUPPORTING ACTOR

Jacob Young

JR Chandler

I'm putting my money on Jacob Young this year. He's a very talented actor and he got to play the trump card of soap scenarios - a grieving widower. His past Emmy win only confirms that he's great, but I think a second win for his work in '08 is in store because his acting has only gotten better over the years. So, let's go, team Young - I need to beat last year's score!
OUTSTANDING SUPPORTING ACTRESS
Tamara Braun

Ava Vitali

Wow! This category was this year's hardest to pick, in my opinion. All five women gave powerhouse performances - applause, applause! But, since I can only select one, I went with Tamara Braun. She was like a force of nature when she arrived in Salem as Ava Vitali. Braun created such a layered psychotic mess that it was impossible to see her merely as some crazy chick that nearly came between two supercouples! I felt sympathy for her at times. She enraged me at times. And at times, she simply cracked me up. See you in the winners' circle, Tamara!
OUTSTANDING YOUNGER ACTOR

Blake Berris

Nick Fallon

My money is on Blake Berris. His portrayal of Nick going from lovable geek to criminally insane was brilliant. Berris simply nailed his performances and kept viewers on the edge of their seats. I'd be all shades of shocked if he didn't snag the gold.
OUTSTANDING YOUNGER ACTRESS
Rachel Melvin

Chelsea Brady

I think this is Rachel Melvin's year to win! She grew as an actress throughout her time on Days, and in 2008, she got to really flex her acting chops. I'm not sure what she submitted, but her hospital scenes in the beginning of the year were amazing. So, be it a front-burner storyline or a supporting gig, Rachel always knocked her scenes out of the ballpark. And, sure, it doesn't hurt to have Jennifer Landon out of the race. I kid, I kid...Melvin simply shined as Chelsea!


OUTSTANDING WRITING IN A DRAMA SERIES
One Life to Live

I'm going One Life to Live again this year. Sure, the show had some storyline hiccups in 2008, but, overall One Life managed to tell compelling stories. I wouldn't be surprised if The Bold & The Beautiful crept up to nab the award, but I'm sticking with my gut - One Life will be the show to beat.