The 32nd ANNUAL DAYTIME EMMY AWARDS
Emmy Fashion -- What people were wearing
by
Dan J Kroll
Posted Friday, May 20, 2004 9:38:51 PM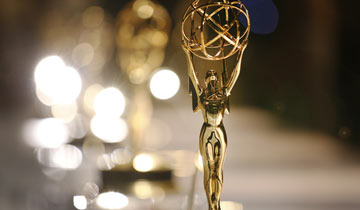 The gowns. The hair. The jewelry. In spite of the fact that everyone wants to know who will take home an Emmy, it seems that people can't help but talk about what people were wearing.
EMMY FASHION: FASHIONABLE COUPLES
Not every trip down the red carpet is a solo trip. Here are some pictures of some on-screen and real-life pairs.
Simply click on their snapshot and a full-size photo will open for your viewing enjoyment.
Maura West & Michael Park
Carly and Jack, ATWT
Kelley Menighan Hensley & Anthony Herrera
Emily and James, ATWT
Alexa Havins & Justin Bruening
Babe and Jamie, AMC
Kristen & Eddie Alderson
Starr and Matthew, OLTL
Melissa Gallo & Kathy Brier
Adriana & Marcie, OLTL
Drew Tyler Bell & Maeve Quinlan
Thomas & Megan, B&B
---
EMMY FASHION: THE DIVAS
What would an awards ceremony be without the divas? Here are some of the lovely ladies that caught our attention with their style.