The Bold and the Beautiful Recaps: The week of July 5, 2021 on B&B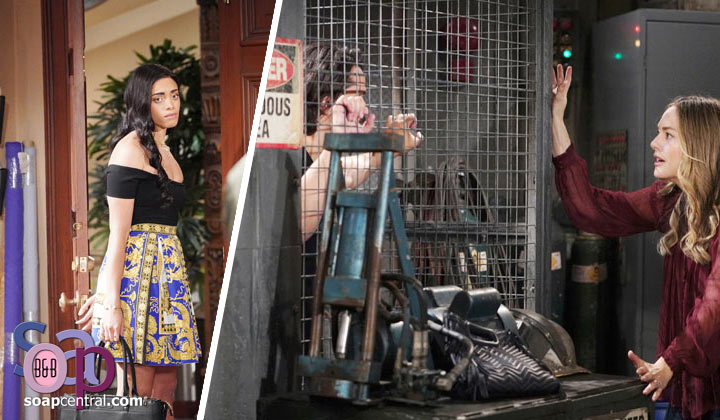 Hope makes a startling discovery in Bill's office
Monday, July 5, 2021
At Eric's house, Eric repeated his question, asking if it was true about Quinn and Carter. The demoralized Quinn nodded. She said it was true, and she was sorry. She didn't feel she could be sorry enough. She admitted she'd betrayed Eric and their marriage; however, she wanted the marriage more than anything in the world because Eric gave her unconditional love.
Crying, Quinn said Eric treated her with kindness and respect. She'd never forgive herself for hurting him and betraying his trust in her. Eric asked how Carter, a trusted friend, could do it. Carter was sorry. Ridge asked how Carter could do it, and Carter said he hadn't wanted to.
"What happened? She threw fairy dust on you and then it just happened, or what?" Ridge asked. Carter said he and Quinn hadn't expected it, and they'd just gotten pulled into something. Eric asked if Carter knew how absurd he sounded.
Quinn said it was the truth, but Ridge asked what she knew about the truth. Wyatt began to speak, but Ridge admonished Wyatt for trying to defend his mother. Shauna decided everyone needed to let Quinn and Eric be alone. Brooke asked Eric if he wanted that. Eric replied that he wanted a truthful wife, who didn't have affairs, and one who would be faithful to him.
Quinn whipped around and blamed things on Brooke and Paris, asking if they'd seen what they'd done. In Quinn's view, Paris had just had to blab to Brooke, who was trying to destroy Quinn's marriage. Quinn implored Eric not to let Brooke do that to them. Quinn assumed Brooke and Paris loved interrupting the ceremony and dragging Quinn through the mud in front of everyone.
Eric ordered Quinn to stop blaming Brooke and Paris; they weren't the cheaters or liars. Paris was sorry she hadn't told Eric, but when she'd incidentally found out, Quinn had begged Paris to remain silent and had sworn that Eric was the man she loved.
Quinn screamed that Eric was the man she loved. She'd love him forever. What she and Carter had done had been a mistake, but she said that Eric knew how lonely and desperate she'd been for human connection and touch. She stated that Carter had gone through the same thing. Carter refused to make excuses. He hated what he'd let himself do, and he was sorry.
Eric asked if Wyatt and Flo had known about it. With helpless expressions, they affirmed that they were just as shocked as Eric. Shauna asserted that she'd obviously known and had pretended to be the woman in Carter's life to protect Quinn. Flo asked how her mother could do it and how Shauna could lie to Flo on top of it. Wyatt assumed Quinn had dragged Shauna into it to cover Quinn's tracks and asked what Quinn had been thinking.
Pointing at Carter, Ridge said he was still trying to figure out what "you" were thinking. Brooke figured Eric understood why she'd been trying to stop the farce of a ceremony. Brooke couldn't believe Quinn could look Eric in the eye and express commitment after what she and Carter had done.
Talking over Brooke, Quinn bitterly said Brooke didn't have to keep saying it, and they got it. It didn't mean that Quinn had stopped loving Eric. That would be impossible. Quinn was sorry for hurting and betraying him, but she knew that he had a great capacity for forgiveness. She asked him not to let it be the end for them. She knew they could work it out. They just needed to be alone, so that she could explain.
"Absolutely not," Eric decided. Pointing, he asked if Quinn saw "these people here." He said they loved him, and they'd stay with him. Quinn would be the one to go. He'd defended Quinn for years, but she wasn't the woman he'd thought she was.
Quinn knew that she'd let Eric down, but she'd been a good wife to him. Eric flashed a galled expression. She wanted his forgiveness and began to offer him a promise. He cut her off, seething that her promise meant nothing to him. "I loved you. I trusted you. I'm not going to make that mistake again. I want you out of my life. I want you out of the company and out of this family. Go. Go now. Get out of this house," Eric ordered.
Quinn turned, and her red eyes met Brooke's cold expression. Quinn looked away and proceeded out the front door. Eric sank down onto the coffee table, looking unnerved.
At Forrester, Hope arrived in the CEO's office and saw Katie. Hope assumed her aunt was thinking of Bill. Katie asked if it was that obvious. Hope replied that they each were in the same situation, worried about the men they loved who'd be in jail for who knew how long.
Katie noticed that Hope had one of Thomas' sketches. Hope wondered if Katie had seen Thomas. Hope hadn't been able to reach him, and Douglas wanted to see his father. Katie said Will wanted his father, too, and it was surreal that Liam and Bill were in jail. Hope didn't want to offend Katie, but Hope didn't know how Bill could have been so reckless and wrong.
Katie didn't think blame was helpful. Hope asked if Katie was defending Bill's actions that night. Katie was just as upset with Bill as Hope was; however, she knew that Bill's family meant everything to him and that he'd do anything to protect it.
Hope took issue with Bill's idea of protection, especially when he justified the unjustifiable.
Katie wasn't arguing that mistakes hadn't been made, but she wanted to focus their energy on Bill and Liam's release. Justin had never failed Bill, and Katie said they needed to believe Justin wouldn't that time, either. Hope decided to visit Justin to ensure it. Hope felt there had to be another explanation for Vinny's death, and Justin had to find it before time ran out.
In the soundproof room at Spencer, Justin assessed that Thomas was holding up well. Thomas banged on the cage, saying that he was going crazy in there. He demanded that Justin let him go. Justin wasn't interested in releasing Thomas, so he could tell everyone about Vinny's suicide/frameup. Justin was only concerned about solidifying his place at Spencer, so he'd run it when the judge threw the book at Liam and Bill.
Thomas didn't care what Justin did to Bill. "But Liam..." Thomas said. For Justin, there were no buts. Justin had put up with Bill's ego for years, and no matter how hard Justin had worked, Bill would never give Justin his fair due. Doubting that Justin had thought it through, Thomas warned that Justin was letting anger cloud his judgment.
With a chuckle, Justin stated that he was beyond anger and into sweet revenge. Dollar Bill had taught Justin how to be ruthless, and it was Justin's time. Thomas screamed at Justin not to leave, but Justin used the keypad to exit the room. Exhausted, Thomas banged on the cage. He said the world needed to know that Liam was innocent.
At the jail, officers left Bill and Liam in the gated conference room to await Justin's arrival. Liam asked if Justin had set up the meeting. Bill had set it up. He was sick of the way Justin was handling things. Bill wanted Justin to get his butt in gear, or Bill would find an attorney who would. Justin had always come through before, and Bill didn't get what was taking so long.
Liam believed Justin was doing the best he could, but Bill wanted results. Justin had been Bill's right-hand man and best friend for years, and Justin had better come through for Bill.
When Justin arrived, he was silent. Bill asked why Justin was just staring at Bill. Bill wanted to know if Justin had gotten something on Vinny that would get Bill and Liam out of there. Fed up with excuses, Bill began to issue a threat. He stopped himself and asked if Justin understood.
Justin heard Bill loud and clear. Bill complained that he paid Justin a fortune to fix things, and Justin needed to fix "this." Liam told Bill that it wasn't that simple. Disagreeing, Bill stressed that time was their enemy, and he demanded to know why Justin was dragging his feet. Bill believed they should be out of there by then.
Liam brought up how insane it was that he'd been the one, of all people, to hit Vinny. Echoing the sentiment, Bill doubted it was a coincidence. He asked if the investigators were on it and if Justin had talked to Thomas. Justin clarified that Bill meant Thomas Forrester. "No, Thomas, Knight of the Round Table!" Bill quipped and affirmed that he had meant Thomas Forrester.
Bill believed Thomas might have useful information. He asked again if Justin had spoken to Thomas. In Justin's silence, Bill ordered Justin to talk to Thomas immediately. Justin flared his nose arrogantly at Bill.
Later, Justin was back at Spencer, ending a call about a deal, when Hope arrived, desperate to know what anyone could do to get Liam out of jail. She was puzzled by how Vinny had even been on the road at the time Liam had driven through there. Justin was sorry that he didn't have answers. He promised to be trying to rectify the situation.
Hope didn't want promises. She was distraught and anxious for a solution. Justin received a call that he felt he had to take. As he did, Hope received a message from Douglas, asking about his father again. Hope called Thomas' phone. A special ringtone that Thomas used from one of Douglas' favorite television shows sounded in Bill's office.
Hope announced that she'd heard Thomas' ringtone, and Justin hurried off the phone as Hope rifled through Bill's desk drawers, on the trail of the sound. She discovered Thomas' phone in one of the drawers and asked Justin what it was doing there. She demanded to know what was going on.
Paris reveals Quinn and Carter's affair to Zoe
Tuesday, July 6, 2021
At the cliff house, Finn and Steffy marveled at the baby boy in their arms. Ridge arrived, striding by balloons at the door. In his hands was a bear with a balloon. Ridge was almost speechless upon gazing at his grandson. Ridge introduced himself as the grandfather, the person his grandson would turn to when his parents said no. Finn didn't know how he could refuse the baby's cute face.
Guessing she'd be the disciplinarian, Steffy let Ridge know that the baby had a name. She told Ridge that they'd named the boy Hayes, and Ridge said it was perfect.
Steffy put the baby in the bassinet. The three adults discussed how the home birth had gone. It had been the most profound experience of Finn's life. He said they were finally the family they should be, and he'd spend his life taking care of Steffy, Kelly, and their son. He'd put Steffy first, and there was nothing he wouldn't do for her. She knew and said they'd have the best life.
Ridge was proud of Steffy and Finn and proud of Hayes for choosing his parents wisely. Finn said he'd be asking Ridge for advice. Ridge was happy to see Steffy in a good place with a love like she had after the year she'd gone through, and he said it had been well done.
Later, Ridge had just revealed what had gone on at Eric's house. Finn said it was shocking about Quinn and Carter. Steffy replied that the Carter part was, not the Quinn part, and Steffy assumed Eric was devastated. Ridge said Eric had been blindsided, but once Eric shut the door on someone, it would stay shut. Steffy asked if Eric had reached that point with Quinn. Ridge believed so and said Eric wanted Quinn out of the company and his life.
Steffy felt terrible about Quinn's actions, but if it had turned Eric off to Quinn, then that meant something good had come from it. Ridge was sorry he'd brought it up but had thought they should hear it from him. Steffy was glad to know about it and would call Eric later. Ridge wanted to focus on the baby again and asked if Thomas had been by or if she'd heard from her brother.
Ridge had expected Thomas and Douglas to be there and said all Douglas talked about was having a new boy cousin on the way. Gazing at the baby, Ridge said they had a lot to look forward to. Steffy told Finn that he'd be the best father. Finn said Hayes and Steffy deserved it, and Finn asked if he'd thanked Steffy for incredibly changing his life.
Steffy said Finn had. Ridge advised Finn to keep doing it and to honor Steffy every day of his life. "Forever," Finn replied. Ridge seemed about ready to leave, but he asked Steffy to let him know if she had heard from her brother. Steffy said she'd texted and called but had gotten nothing. Ridge was unsettled by it. Steffy thought Thomas was just too busy. To Ridge, it didn't add up that Thomas would be too busy when his sister had just had a baby.
In the design office, Zoe was packing folders in a briefcase. She'd gotten Paris' text but didn't have a lot of time before the flight to Paris. Paris said there was something important Zoe needed to know. Zoe asked what was going on. Paris figured she should have told Zoe sooner, but she hadn't wanted to spoil Zoe's happiness. Besides, people had told Paris that it wasn't necessary to tell Zoe. Zoe asked what Paris was talking about.
Paris loved Zoe, and the only reason Paris had kept the secret had been to prevent hurting Zoe. The secret was out, and Paris wished she'd told Zoe sooner. Zoe said it was fine and to just tell her. Paris asked Zoe not to hate her and revealed that it was about Carter's affair.
Zoe asked what it was about Carter and Shauna's affair. Paris explained that the woman's jacket Zoe had seen on the floor at Carter's house hadn't been Shauna's. Zoe replied that Shauna had admitted that it had been. Paris said Shauna had lied to protect Quinn.
Zoe didn't know how that could be true. Paris explained that it was why she wasn't at the ceremony. Brooke had made sure it had gotten canceled. "Brooke?" Zoe asked. Paris stated that Brooke had been prepared to blow it up. Brooke had given Quinn and Carter the chance to stand up and own the truth, and Carter had taken it.
It didn't make sense to Zoe. She asked how Brooke would even know. "I told her," Paris replied, and Zoe's eyes bulged in disbelief. Zoe yelled that Paris had known the entire time but hadn't told Zoe. Paris swore she'd wanted to, and she'd hated knowing. Paris had hated having the power to destroy four lives, one of them being her sister's, who she'd never seen happier. Paris hadn't wanted to destroy it for no reason.
"No reason?" Zoe repeated. Paris explained that Carter and Quinn had said it had been just a moment when they'd found comfort while they'd been lonely and sad about Zoe and Eric. The cheaters had told Paris that it would never happen again, that Quinn only wanted Eric, and that Carter had only wanted Zoe. They'd begged Paris not to hurt Zoe over a mistake that wouldn't happen again, but Paris wished she'd told Zoe upon finding out.
Zoe asked how Paris had even found out. Paris explained that she'd overheard Quinn and Shauna talking. Zoe didn't want to believe it. "Quinn was supposed to be helping me with Carter," Zoe said. Zoe couldn't believe that she had thought Quinn had been making Zoe's case to Carter, but instead, Quinn had been sleeping with him.
Paris said it was messed up. She wasn't excusing Carter, but she didn't think it had to be the end of it between him and Zoe. Zoe wondered if she should just forget that he'd slept with Quinn. Paris replied that people made mistakes, and he'd forgiven Zoe for flirting with Zende. Zoe clarified that she hadn't slept with Zende.
Paris believed that Zoe and Carter could work through it. It wasn't as if Carter was in love with Quinn or had a serious relationship with her, and Zoe and Carter hadn't been together at the time. Though Zoe got that, she said that Carter had turned to a married woman, Eric's wife. It was a betrayal Zoe hadn't known Carter was capable of. Eric cared about Carter like family, and Carter knew how much Eric cherished Quinn.
Paris said that Carter was human and regretful for what he'd done to Zoe and Eric. Carter loved Zoe and had never stopped. Zoe stated that she couldn't miss her flight. Paris was sorry to send Zoe off with all that. Zoe thought it was for the best because it would give her time to sort out her feelings. She thanked Paris for telling her. It had been better late than never.
Paris asked if that meant they were good. Zoe affirmed it. The sisters said that they loved each other. They hugged, and Zoe took off.
At Spencer, Hope asked why Thomas' phone was there. Justin claimed Thomas had been there for follow-up questions about his interview. Thomas had said he'd stop by on his way out of town to pick up the phone, but Justin assumed Thomas had run out of time. Hope didn't know what Justin was talking about; Thomas had never spoken to her about leaving town.
Hope asked if Thomas had said where he was going. Justin didn't know and hadn't thought to ask. He assumed something unexpected had cropped up. It was strange to Hope, who couldn't imagine Thomas leaving without giving her a heads-up.
Justin was sure Thomas would pop up with a reasonable explanation, but Justin needed to get back to work on Bill and Liam's cases. Justin was doing all he could to make sure justice would be served. Hope asked if Justin had a solid plan for Liam's case. Justin thought that was a given because he was Liam's lawyer, but Hope said Liam had made it sound as if Justin didn't think Liam had a strong defense.
Justin reminded Hope that her husband had confessed to a crime. Hope hoped Justin wouldn't let the D.A. make a case for murder. She said there had to be evidence to exonerate Liam. Justin flashed back to punching out Thomas. Hope snapped Justin out of his muse. He said he'd heard Hope, but she needed to let him get back to work.
Hope started to leave. Justin took Thomas' phone from her hand. Justin claimed he'd still need it because there were some numbers and proposals on it that Spencer would use for the feature story that they'd interviewed Thomas for. Justin said he'd get it back to Thomas. Justin asked her not to worry and stated that he'd take care of everything. Hope gazed suspiciously at Justin.
After Hope had gone, Justin swore at himself for being stupid and careless. He asked how he could let Hope see Thomas' phone like that.
In the dark place at Spencer, Thomas was banging on the cage and seemingly going crazy. He muttered that he had to help Liam. Vinny had set Liam up.
In jail, Liam replayed the night of Vinny's death in his mind and practiced asking the judge why Vinny had been in the middle of the road. Liam said it didn't make sense. Liam explained to the imaginary prosecutor that he hadn't had it out for Vinny because Liam had already gotten justice. Vinny had been arrested, and Liam had moved on with his life.
Liam insisted he'd had nothing against Vinny any longer at that point, and Vinny had actually been the one who'd had it out for Liam. Vinny had been trying to ruin Liam's life. Liam wanted the prosecutor to say why Vinny had been on that road that night and if it had been just a coincidence. "Okay, relax," Liam told himself and sighed.
Later, Hope arrived for a visit in the glassed-off visitation area, and they touched the glass at once, lining up their hands. Liam was better because she was there. He asked how the kids were. Hope said they were good but missed him. He was eager to get out of there and back to his family. It was her sole focus, too.
With all the free time he had, Liam had focused on how Vinny had been the one to appear on the road. Liam didn't get it. Hope didn't, either, and she'd asked Justin to find anything to show that Liam hadn't intentionally run over Vinny. Liam replied that the charges could be manslaughter or murder.
Hope urged Liam not to give up. Liam refused to rot there away from his family. He asserted that he hadn't intentionally hit Vinny and hadn't tried to cover it up, either. Hope promised to keep the pressure on Justin. She advised Liam to think of them whenever he was overwhelmed. She wanted them to keep the image of them together alive because that had to be their future.
Hope follows Justin to where he is holding Thomas
Wednesday, July 7, 2021
At Forrester Creations, an overjoyed Ridge gushed to Brooke about how his new grandson was "perfect in every way." When Brooke mused that the little one was going to be a looker like his grandfather, Ridge retorted, "He wishes!"
Hope arrived a short time later and was given a similar update on Hayes -- with Ridge joking that the baby had been "riding a bicycle" when Ridge had last seen him. Hope said that she was happy for Steffy and Finn, but it was clear that her mind was still focused on her own family's less-than-jubilant situation. Hope reiterated her belief that there had to be evidence somewhere that proved Liam's innocence. She then told Brooke and Ridge how it pained her not to be able to comfort Liam or hold his hand.
When Hope stated that Justin had not yet been able to get bail for Liam or Bill, Ridge noted that they lived in Los Angeles, and there had to be at least 10,000 lawyers that could be hired instead of Justin. Hope mentioned her visit to see Justin and asked if either Hope or Ridge had spoken to or seen Thomas in recent days. Ridge was puzzled as to why Justin would have Thomas' phone.
Hope told Ridge that Justin had claimed that Thomas left the phone behind after a meeting -- and added that Justin had not allowed her to have Thomas' phone. Hope added that Justin had said that he would give the phone back to Thomas when Thomas returned from an out-of-town trip. Neither Hope nor Ridge knew of any trips Thomas had planned. Brooke wondered if Thomas had taken a trip to Big Bear -- or had a new woman in his life -- and suggested that they all calm down.
Later, Ridge confided in Brooke that he was worried about Thomas.
In Bill's office, Justin blasted himself for the careless way he'd left Thomas' cell phone in Bill's desk drawer. Wyatt entered the office and watched Justin curiously. "Did I just catch you yelling at yourself?" he asked. Justin's uneasy expression prompted Wyatt to chuckle, as he admitted to Justin that he talked to himself all the time. When Wyatt turned the topic to a podcast deal that was closing that day, Justin became angry and said that he hadn't gotten to the deal because he had a lot on his plate.
Wyatt then became angry himself and told Justin to focus on one thing: getting Bill and Liam out of jail. Wyatt offered to work on the podcast contracts to help ease Justin's stress, but Justin insisted that he could handle it. Justin then grumbled that he had to go see someone and walked out of the office. "Well, I hope it's involving my family's case," Wyatt quipped. "Yes, it is, Wyatt," Justin replied in an exasperated tone.
Elsewhere, Thomas guzzled down some water as he sat quietly in his cage. After a few moments, he leaped to his feet and began banging against the cage and screaming out to anyone who might be within earshot of his location. Justin arrived and told Thomas to save his breath because no one could hear his cries. Thomas complained that he hadn't had food. Saying that he had a lot on his mind, Justin ordered Thomas to stop complaining. Justin balked at Thomas' request to be freed, saying that he knew Thomas would head straight to the police. Thomas admitted that he wanted to go to the police -- but to clear Liam and Bill, not to report that Justin had imprisoned him.
Justin muttered that he'd "screwed up," and he told Thomas about Hope's visit and how Hope and seen Thomas' phone. Thomas said that Justin had "made a mistake" -- and Thomas shared that he had made a bunch of mistakes of his own, so he was not in a position to judge Justin. Still, Thomas could not help but wonder why Justin was acting the way he was. "Didn't Bill used to be your friend?" Thomas asked. "My friend?" Justin growled, complaining, "Bill is only loyal to Bill. That egomaniac only values himself and the almighty dollar. Everyone else is worthless -- beneath him."
Thomas commiserated with Justin, saying that Bill treated everyone "like garbage." Justin proclaimed that he would not allow Bill to treat him like that anymore. "I helped make this company what it is today," Justin roared, insisting, "I'm the brains behind this operation." Justin exclaimed that it was his moment to take the company to new heights.
Justin was repulsed that after Bill had committed a crime and destroyed evidence, he expected Justin to clean up the mess. Thomas countered that Liam didn't deserve to spend his life in jail because of Bill's mistakes.
Later, Hope returned to Bill's office and ran into Wyatt. They both agreed that they needed to get Liam out of jail as soon as possible. When Wyatt mentioned that Justin was working on things, Hope asked if she could speak to Justin. Wyatt said that he didn't know where Justin was or what he was doing. He then excused himself to go handle some Spencer business.
After Wyatt left, Hope searched though Justin's desk to find Thomas' phone. She didn't find it. She had to stop her search when she heard Justin talking in the hallway. A woman handed Justin a brown paper bag with a breakfast burrito in it. He thanked her and sent her to make some copies for him.
Justin returned to where he was holding Thomas and gave Thomas the breakfast sandwich. Outside, Hope skulked about as she followed quietly behind Justin. From outside the room, Hope heard Thomas state that he wanted Justin to release him. Her mouth dropped as she heard Thomas banging against his cage enclosure.
Hope infiltrates Justin's lair, and Ridge confronts Justin
Thursday, July 8, 2021
In Bill's office, Wyatt settled down to look at a contract. He grabbed the phone to continue a call he appeared to have been on in another room. Upset that a celebrity was trying to shirk Spencer's exclusive interview status, Wyatt demanded that the star's manager call Wyatt.
Ridge arrived as Wyatt slammed down the phone. Ridge asked if Wyatt was okay. Things had been crazy around there without Bill, but Wyatt indicated that Justin was helping out. He and Justin hadn't been in sync, and he didn't know where Justin was at times.
Ridge thought it was funny that Wyatt had mentioned Justin. That was who Ridge was there to see. Wyatt asked if it was about Bill and Liam's case. Ridge said it had to do with his son, Thomas.
Later, Wyatt was surprised that Ridge thought Justin knew Thomas' whereabouts. Ridge didn't know for certain. He explained that Thomas hadn't been in touch with anyone, not even his sister, who'd just had a baby. Wyatt chuckled with delight. He hadn't known that.
Ridge took time out to brag about the perfect Hayes, who was smart and cunning and could already ride a bike. Wyatt said it was nice to hear good news for a change.
Turning back to the topic of Thomas, Ridge thought it was unlike Thomas not to contact his sister after an event like that. Wyatt asked if Hope had reached Thomas. Ridge told Wyatt about the peculiar incident Hope had had earlier when Thomas' phone had rung in Bill's office. Ridge said that Justin had it. Wyatt asked why that would be. That was what Ridge wanted to know.
Ridge conveyed what Justin had told Hope about the magazine interview, Thomas' trip, and the reason Thomas had left his phone. It seemed very strange to Ridge, who hadn't known about the trip, that Thomas would leave his phone, or any meeting at Spencer that Thomas had had.
Wyatt didn't know Thomas would do that, either. Wyatt hadn't been a part of it, and things had been crazy with Bill gone. Wyatt couldn't keep up with everything. That was understandable to Ridge, but what was also understandable to Ridge was that Ridge didn't trust Justin any farther than he could throw Justin. Ridge wanted Wyatt to get Justin in there, so Ridge could ask about his son.
Deep within Spencer, Hope listened outside the slightly open steel door, as inside the concrete-reinforced room, Thomas tried to reason with Justin that it was just a matter of time before people put things together. Agitated, Justin asked for some time. He knew he'd made a mistake in leaving the phone where it could be found.
In a calm voice, Thomas coaxed Justin to listen. Things were getting out of hand, and Justin needed to let Thomas go before things got worse. Justin didn't think things would get worse. Justin exclaimed that he was a fixer, and he was going to fix it. Thomas persisted, saying Justin's only chance to walk away was by letting Thomas go.
Hope continued to listen in as Justin insisted that he was in control. Thomas asked what the next move would be, and he was certain people were looking for him. Thomas asked Justin to set him free because the truth had to come out, and Thomas struck his hand against the cage.
Justin was flustered. He yelled at Thomas to stop talking. Justin needed time to think. Justin yelled that Thomas didn't know Justin or what Justin had been through, and Thomas wouldn't be able to talk Justin down. Thomas just wanted the truth to get out.
Justin wondered about the truth about all the people Bill had hurt. Justin asserted that Bill deserved to be behind bars. Thomas didn't disagree with that, but he said Justin wasn't a monster like Bill. Thomas thought Justin still had a chance to prove that. Thomas reasoned that Bill might pay and stay in jail, and Justin might run Spencer -- but not like that, not at Liam's expense. The truth had to come out.
Justin received a message from Wyatt. Justin wondered "what the hell" Wyatt wanted. Justin marched out of the room. He pressed the code to close the steel door and stomped up the metal staircase.
When Justin had gone, Hope, who had ducked beneath the landing under the bend of the stairs, hoisted herself through the rails and back onto the staircase's landing. She shoved her purse into the crack in the steel door just before it closed, and with effort, she pushed it back.
"Thomas!" Hope breathlessly exclaimed. She asked if he was okay. Thomas said he was. "What the hell is this? What are you doing in here?" she asked. She told him that she'd known Justin had been up to something strange, and that was why she'd followed him there. Thomas said there wasn't much time, and she had to get him out.
As Hope looked around for a key to the locked cage door, she said Justin had claimed that Thomas had gone out of town. Thomas said Justin had knocked him out and locked him in there. Justin wanted to control Spencer Publications. Hope didn't know what that had to do with Thomas. Thomas told Hope to look at him. She had to know something before it was too late.
In a jumble of words, Thomas told Hope about the delayed text messages and video from Vinny. She asked what it had to do with the accident. Thomas exclaimed that it hadn't been an accident. Thomas assumed Vinny, facing serious jail time, might have thought his life was over. Thomas wasn't sure, but he knew that Vinny had wanted Thomas and Hope to get together.
Hope asked why she and Thomas were talking about that. "Because he did it," Thomas replied. Thomas hadn't been able to believe it himself. He revealed that Vinny had jumped in front of the car that night, and Vinny had taken his own life on purpose. Liam hadn't been at fault because Liam hadn't had a chance to stop. Vinny had set Liam up and framed him. "Liam is in jail because of Vinny," Thomas told the disconcerted Hope.
Back in Bill's office, Wyatt let Ridge know that Justin would be on the way up. Wyatt hoped Ridge didn't mind if Wyatt left. Wyatt wanted to pick up Flo, visit Steffy, and meet the baby. Ridge thought it was a good idea. Wyatt believed things with Thomas would work out, but it was strange to Wyatt that Justin had Thomas' phone.
Justin arrived, wondering what Wyatt wanted. Ridge greeted Justin. "Ridge," Justin stiffly uttered. Ridge said he wanted to talk to Justin, not Wyatt. Justin advised that Ridge would have to make an appointment like everyone else. Turning to leave, Justin claimed to be late for a meeting and said he didn't have time for it. "Then make some time! How about that?" Ridge roared.
"Oh, you really have some nerve, coming in my office, raising your voice at me," Justin replied, turning back to face Ridge. Wyatt interjected, "I'm sorry -- your office?" Justin asked how he could help Ridge. Ridge asked if Justin knew where Ridge's son was.
Wyatt mentioned that he'd heard Justin had Thomas' phone. Wyatt asked if it was true. In Justin's silence, Ridge stated that Justin's boss had asked him a question. Justin repeated what he'd told Hope -- that Thomas had left his phone after an interview. Justin assumed Thomas hadn't had time to retrieve it before he'd left town.
Ridge hadn't believed that story from the moment he'd heard it, and he still didn't. He decided to try again. "Justin...Where's my son?" Ridge asked.
In his cell, Liam sat on the cot and pressed his back against the wall that displayed kids' drawings and pictures of his family with Hope . He flashed back to the conversation he'd had with Bill in the car before striking Vinny but still couldn't make sense of why Vinny had been in the road.
Liam strode to the bars, looked around, and said, "Hello?" He turned back and saw the picture of his family. He flashed back to the day Douglas had officiated at Hope and Liam's home wedding. Liam thought of other times like reading to Beth and welcoming Kelly into the world.
Liam recalled when he'd told Hope that the sight of Vinny in the road never went away. He remembered his and Hope's decision to spend one last night together before he turned himself in. Sitting back on the bed, his recollection wandered to Hope urging him to think of their future when he felt alone and afraid.
Liam wiped away tears and closed his eyes. Light hit his face. When he opened his eyes, he was outside Brooke's cabin. He opened the door and saw Hope by the fireplace. They embraced each other and kissed. She exclaimed that he was finally home, and he spun her around.
A buzzer sounded, jolting Liam out of his fantasy. He stroked the photos on the wall and reminded himself to have faith. He said the truth would come out, and he hadn't hit Vinny on purpose.
Justin changes his mind, but it's too late
Friday, July 9, 2021
At the cliff house, Finn folded laundry as Steffy held the baby. Taylor was excitedly sending Steffy messages, asking for an hourly update on her grandson. Steffy expressed disappointment and disbelief that she'd had a baby, but she hadn't heard one word from her brother. She got that Thomas was busy, "but hello!" Finn was sure Thomas had a reason.
Someone knocked on Finn and Steffy's door. Steffy wanted it to be Thomas and was slightly disappointed when it was just Wyatt and Flo. Carrying in gifts with the smiling Wyatt, Flo asked if it was a bad time. Steffy apologized for her apparently disappointed look and said she'd just been hoping that they'd been her brother; however, it wasn't a bad time at all.
Later, Flo gazed lovingly at the baby monitor as Wyatt scrolled through his phone. She could look at the baby all day. Steffy said she had to catch herself doing that and remember she had chores to do. Wyatt was fine if Finn and Steffy kicked them out to take advantage of nap time, because Wyatt had already gotten the selfie he'd wanted with Hayes.
Steffy joked that Wyatt had just wanted to see the baby and not the parents. Wyatt replied that they were fine and everything, but not anything like a newborn. Finn said they got it. Wyatt stated that the visit was a welcome distraction from the problems with Liam and Bill.
Steffy mentioned that Thomas wasn't responding to her messages. Wyatt said not to bother trying to contact Thomas because he didn't have his phone. She asked how Wyatt knew that. "Because Justin has it," Wyatt cautiously stated. She asked why that was.
Wyatt explained that Ridge had been at Spencer before Wyatt had left. Ridge had been inquiring about Thomas' phone, and things had gotten tense between Justin and Ridge. Steffy asked if her father thought something was wrong. Continuing with his precarious tone, Wyatt said there might be, and Ridge had been demanding that Justin say where Thomas was.
Steffy gleaned that her father had confronted Justin. Wyatt hadn't meant to worry her with his statements, but she quipped that it was a little late for that. She asked about the phone issue, and Wyatt conveyed that Justin had said Thomas had left it behind after an interview. Steffy thought it was weird that Justin hadn't let anyone know that.
Wyatt didn't know the details but said Ridge was handling it, so Steffy didn't have to be concerned. Flo decided that she and Wyatt needed to leave and let the new parents focus on the baby. Apologizing for upsetting them, Wyatt was positive Thomas would show up soon. Steffy smiled as if she believed it, but the smile quickly faded.
Alone with Steffy later, Finn asked if she wanted to talk. Steffy was disconcerted about what could be going on with Thomas. Normally, she wouldn't be worried about Thomas not showing back up, and even though she wanted to remain positive, something didn't feel right.
Steffy guessed she just had too much on her mind. Finn agreed and said it was especially so because they were dealing with Liam in jail. It was hard for Steffy not to think about Liam. They didn't know what would happen with him, and he was Kelly's father. Finn got it. He felt for Steffy and for Kelly and hated that Kelly was losing time with her father.
Steffy feared that Kelly might lose even more than that. Finn replied that Liam had to convince a jury that he hadn't intended to kill Vinny. "But how? Like we need evidence that he didn't do it," Steffy said. She stated that Liam needed to come home and be with his daughters.
In Bill's office, Wyatt had gone, leaving Justin and Ridge alone. "Out with it," Ridge demanded. Justin claimed he hadn't been holding anything back about Thomas for Wyatt's sake. Justin had told Ridge what Justin knew. Ridge said Justin had stated a lot of things -- except where Thomas was. "On a plane, I suspect," Justin replied.
Ridge remarked that Thomas had told Justin about the trip, but not family or friends. Ridge asked if Justin expected Ridge to buy that. Justin didn't expect anything but for Ridge to leave the building. Ridge refused to leave without news about his son.
Justin said he'd tell Ridge anything he knew -- mostly just to get Ridge out of Justin's face. Ridge was suspicious about Justin having Thomas' phone, but Justin said people left things sometimes. "People don't -- We leave things. Old people leave things! Young people don't leave their phones. They can't live without their phones. You know that!" Ridge responded.
Ridge doubted Thomas would have made it to the elevator without the device. Justin didn't know what to tell Ridge and suggested that Thomas had been preoccupied or focused on the trip. Ridge recalled that it was the trip no one knew about. Suspecting that Justin was hiding something, Ridge again asked where Thomas was.
All Justin knew was that Thomas had gone out of town, and Justin hadn't thought to ask where. Ridge didn't want to take Justin's word for anything regarding travel after the chopper ride he and Justin had taken together. Justin replied that if Thomas was swimming in a body of water somewhere, it had nothing to do with Justin. Ridge rejoined that he was merely reminding Justin why he didn't like Justin and would never trust Justin.
Justin was cool with that and asked if they were done. He had someone waiting on him. Ridge asked if Justin could remember anything at all about what Thomas had said. Justin responded that he and Thomas had talked business, not vacations. Ridge again returned to the notion that Justin was the only person who knew about Thomas' trip.
Justin explained that all Thomas had said was that if Justin had any more follow-up for Thomas, Thomas might not respond right away because he was traveling. "If your son -- Marcus. It's Marcus, right?" Ridge asked. Justin affirmed it. Ridge believed that if Marcus disappeared, Justin would be concerned. Justin agreed that he would be.
Justin suggested that Ridge give it a little time. He was sure Thomas would resurface when he was ready. That didn't compute to Ridge, who said Steffy was waiting on a call from Thomas about the new baby. Ridge was asking Justin man to man and father to father to help him.
Though Justin got Ridge's anxiety, Justin felt he was the wrong person to question about it. Ridge didn't know who'd be better than the last person to see Thomas. Justin remarked that if Ridge asked around, he might learn that plenty of people had seen Thomas after Justin. Ridge guessed he should let the police deal with it.
Justin thought Ridge should do what he had to do and claimed the police could question Justin, but it would be a waste of time. Ridge warned that he'd make Justin suffer if something happened to Thomas because of Justin. Taking it under advisement, Justin said he could no longer listen to Ridge's worthless comments and threats. Justin had to be somewhere and take care of something that was long overdue. He said Ridge could let himself out.
In the room with the cage, Hope was flabbergasted upon hearing that Vinny had committed suicide and set Liam up for murder. She asked how Vinny would even know where Liam would be. Thomas mentioned what Vinny had said in the video about tracking Liam and concluded that Vinny had known where Liam would be. Thomas hadn't realized how troubled Vinny had been and that he'd been willing to die to set Liam up.
Hope seemed sickened and didn't think Thomas was saying what she thought. Affirming the facts, Thomas said Vinny had assumed that with Liam in jail and out of the way, Hope and Thomas might be together. Thomas hadn't known sooner because he'd blocked Vinny from his phone, but after Thomas had reset the phone, all the messages from Vinny detailing his plan, along with a video, had shown up on the phone.
Thomas stated that the incident hadn't been an accident. Vinny had intentionally died. Thomas wanted to be set free, so that they could tell the police and get Liam released. Hope asked if the police would release Liam. Thomas figured they had to if Vinny had caused his own death.
As Hope continued to look for a key, Thomas urged her to leave on her own, but she refused to leave him there and didn't get why Justin wasn't going to the police himself. Thomas explained that it was a power grab. Hope asked if Justin had just planned to leave Bill and Liam in jail. She said Justin couldn't leave Thomas in a cage forever, either.
Thomas didn't believe Justin had thought things through. Again, Thomas instructed Hope to stop searching for the key and to go tell Baker everything she knew. Thomas assumed that Justin had the key on him, and Thomas didn't want Justin to catch her there. Hope refused to risk Justin moving Thomas in her absence, and she said no one knew what Justin would do.
Thomas said it was why Hope needed to leave. Hope wouldn't go, but he urged her to get the proof to the police. Liam could be free, but not if Justin caught her. If Justin caught her, Liam might never get out.
Later, Justin trotted down the dark stairwell, muttering to himself. He didn't know why he'd thought he could "do this," and he said he'd lost his mind. He entered the holding area for Thomas, saying that they'd go to the police together to tell them about Thomas' friend.
Justin spotted a crowbar on the floor, and the crate was empty.
In his cell at the county jail, Liam smiled with vague happiness, looking at his photos on the wall. He flashed back to fond memories of Hope. The car accident sprang to mind, and he sighed. Baker arrived and told Liam that they needed to talk, and it wasn't good news.
Baker explained that Liam would be transferred to another facility. Liam asked if that was bad. Baker replied that "this cushy little lifestyle" would be where Liam would go. Liam asked if Bill would be transferred. Baker replied that Bill faced lesser charges and would be staying there.
Liam asked where he was going, and Baker said it would be somewhere better equipped to handle prisoners in need of maximum security. Liam said it was unreal and that he was innocent. Baker claimed he was until the trial proved him guilty. Liam regretted not coming forward sooner, but he swore he hadn't hit Vinny on purpose.
"Yeah, yeah, yeah. The man you hated, the man who had it out for you, just happened to appear in front of your car," Baker said. Liam asked if Baker had even questioned what Vinny had been doing on that particular street on that particular night. Liam asked if Baker thought Liam had kidnapped Vinny and brought him to Liam's neighborhood just to run him over.
Liam asked Baker to be an investigator because Vinny's appearance probably hadn't been a coincidence. Baker agreed that it wasn't a coincidence; hitting someone on purpose was murder. Baker turned and left as Liam screamed that it had been an accident.
Later, as an officer arrived to handcuff Liam and lead him away, Hope and Thomas strode into the fenced-in conference area. Baker was there, eating and working. An officer was unable to stop Thomas and Hope. Thomas asserted that he had evidence Baker needed to hear. Baker said he had "this," and the other officer left.
Deputy Chief Baker said Hope and Thomas were too late to see Liam, who was being transferred. Thomas asked if they could stop it, but Baker said it was a done deal. Hope stated that they'd been trying to tell Baker that Liam hadn't meant to kill Vinny, and they had gotten proof. Thomas said Liam had been set up.
Baker asked who'd done that, and Thomas answered that Vinny had done it. Thomas explained that he'd gotten a delayed text message from Vinny with a video, and on it, Vinny had said he'd been doing it for Thomas. It had been filmed right before Vinny had been hit. "What?" Baker asked.
Thomas said Vinny had made a video, admitting that he would step in front of Liam's car on purpose. Hope added that Vinny had framed Liam in order to put Liam behind bars; Vinny had instigated the crime. They had proof, and Liam needed to be released. Hope ordered Baker to stop the transfer and release Liam.