Hector Ramírez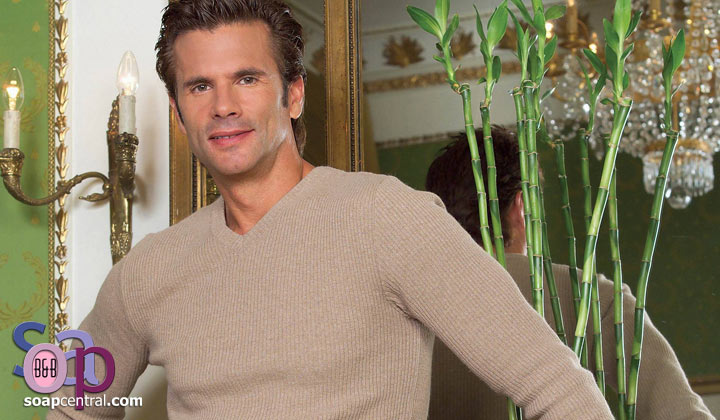 Firefighter
Presumably somewhere in Los Angeles
Single (assumed)
None
Christian Ramírez
(brother)
Caitlin Ramírez (daughter; with Samantha; late 1980s)
Jimmy Ramírez (son; via adoption; adopted 2000s)
Taylor Hayes (kissed)
Guilty of the statutory rape of underaged Samantha Kelly [late 1980s]
Accidentally hit Rick Forrester with his truck [2004]
Shoved cake in Priscilla Kelly's face [2005]
Obstructed justice to cover up Taylor Hayes' role in the death of Darla Forrester [2006]
Kidnapped Taylor to keep her quiet about her role in Darla's death [2006]
Blinded in a fire and sustained burns to his face [2006]
Hector Ramírez was a firefighter from Los Angeles who played soccer against Forrester Creations heir Ridge Forrester in high school. As a young adult, Hector fell in love with the underage Samantha Kelly and got her pregnant; Hector happily planned to make a life with Samantha and their child until Samantha's mother, Priscilla Kelly, presented Hector with his baby and announced Samantha wanted nothing more to do with them. Hector raised his daughter, Caitlin Ramírez, to believe her mother was dead, and later adopted a young boy, Jimmy, who lost his parents in a fire.
Hector chafed when Caitlin took an interest in fashion and wanted to work for Forrester Creations, feeling that Samantha had turned her back on their child to live in that world. Hector was furious that Caitlin took a job at Forrester against his objections, and disapproved of Caitlin spending time with young Thomas Forrester. Hector was shocked to learn that Caitlin was actually working under Samantha; when Caitlin's childhood nightmares about her dead mother continued to haunt her, Hector confronted Samantha and was stunned when he found out that Samantha thought their daughter was dead because the meddling Priscilla had lied to them both.
Hector proposed to Samantha and moved her in with him, Caitlin, and Jimmy, but got into a fight with Priscilla over wedding plans that ended with Hector mushing cake in Priscilla's face. Hector and an upset Samantha conceded they might not be ready for marriage; after Samantha disappeared from the canvas, Hector revealed that Samantha still wanted material things and had gone to New York to pursue them.
Hector began warming to Thomas but was further incensed when Rick Forrester began seeing Caitlin. Hector accidentally hit Rick with his truck and wouldn't offer aid to him until Rick swore he hadn't had sex with Caitlin. But Hector was on hand in official capacities when Ridge got trapped in a mine shaft with Bridget Forrester, when Rick's ex-wife, Amber Moore, accidentally set her apartment on fire, and when Ridge's stepdaughter, little Hope Logan, caught her hair in a hot tub drain and nearly drowned.
With Samantha gone, and Caitlin having joined her in New York, Hector set his sights on Taylor Hayes, who had recently remarried Ridge. Hector actively pursued Taylor and told her she was worth more than Ridge dividing his attention between her and Ridge's other longtime love, Brooke Logan. Hector got Taylor to promise that she'd give him a New Year's kiss if Ridge wasn't there to collect it; indeed, Ridge was out of town for New Years, and Hector finally got his kiss from Taylor, but Brooke witnessed it, which led to the dissolution of Taylor's marriage. Hector became more determined than ever to win the resistant Taylor for himself.
Hector became concerned when Taylor began drinking, rescuing her when she drunkenly ran her car off the road. Hector got a chance to reconnect with his brother, Christian Ramírez, a doctor who was on call when Darla Forrester, the wife of Ridge's brother, Thorne Forrester, was fatally injured by an oncoming car. When Hector learned that an inebriated Taylor had been driving, he pulled some strings to have auto body work done on Taylor's car and scared Taylor into keeping quiet about her part in Darla's death. Meanwhile, Hector became increasingly jealous of the time Taylor spent consoling the grieving Thorne.
When Taylor's guilt got the better of her and she insisted on confessing to Thorne, Hector offered to give Taylor a ride but took her to his house instead, where he tied her to his stairway railing. Afraid he would join Taylor in jail, Hector became unglued and threatened Taylor with a burning newspaper, but fell to the ground and knocked himself unconscious when Taylor kicked him; his house went up in flames in the scuffle, and Hector lost his eyesight. Hector was allowed to recuperate at Taylor's house; Hector became suspicious of Shane McGrath, a once homeless gardener who had witnessed Taylor hitting Darla with her car. After Shane blackmailed Taylor's daughter, Phoebe Forrester, into hanging out with him in exchange for giving testimony in Taylor's favor, Hector, along with Phoebe's friend Harry Jackson, came to Phoebe's rescue when Shane started getting aggressive, blindly swinging a baseball bat in an attempt to help.
After Taylor finally told the truth about the night of Darla's death, Hector narrowly escaped being arrested for obstruction of justice alongside Phoebe and her grandmother, Stephanie Forrester, who also had worked to keep Taylor's involvement secret. Conceding to the relationship Taylor had developed with Thorne, Hector readied to leave Taylor's house when Thorne wanted to move in, surprised when Thorne offered the recovering Hector the use of his now-vacant beach house. Hector disappeared from the canvas after that episode, and whether or not he got his sight back was never addressed.
Post a Comment
Share on Facebook
Tweet this
Submit Feedback