Emma Barber
Deceased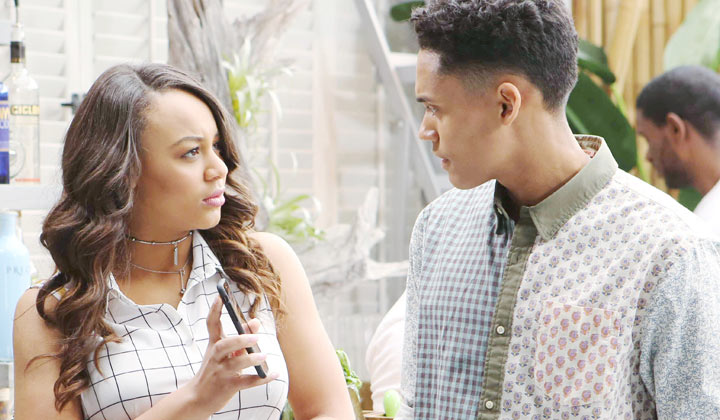 Died June 24, 2019
Intern at Forrester Creations
Los Angeles, CA
Single
None
Justin Barber (uncle)
Wesley Barber (grandfather)
Valerie Lowell (grandmother)
Marcus Walton (cousin)
Walter Barber (great-uncle; presumed deceased)
Lillie Bell Barber (great-aunt; deceased)
Ambrosia "Rosie" Forrester (first cousin, once removed)
Olivia Barber (first cousin, once removed)
Drucilla Barber Winters (first cousin, once removed; presumed deceased)
Nathan Hastings, Jr. (first cousin, twice removed)
Lily Winters Ashby (first cousin, twice removed)
Charlie Ashby (first cousin, thrice removed)
Matilda Ashby (first cousin, thrice removed)
Carter Walton (cousin, via adoption)
Devon Hamilton (first cousin, twice removed; via adoption)
None known
Alexander "Xander" Avant (kissed)
Jonathan
Knocked Xander Avant unconscious [2018]
Accidentally injured a Forrester model [2018]
Died from injuries sustained in a car accident [2019]
Emma Barber was the niece of Spencer Publications executive Justin Barber and is distantly related to the Barbers of Genoa City, Wisconsin. Emma idolized Hope Logan, who created the Hope for the Future fashion line for Los Angeles design house Forrester Creations, and began an internship there, getting to dish with Hope's family members about Hope's on-again-off-again relationship with Liam Spencer. Emma thought the models' runway skills were too stilted and suggested dance as a way of livening up the festivities; Emma busted a move and accidentally hit a boy in the face, rendering him unconscious. Emma learned he was fellow intern Alexander "Xander" Avant; it wasn't long before Emma and Xander were joking about their "knockout" introduction.
Emma's delight that Hope agreed to incorporate choreography into the next Hope for the Future showing hit a snag when Emma got busted taking what she thought were innocent photos of exclusive Forrester designs to aid in her process. Though Emma was happy when Xander standing by her led to a kiss, she felt disgruntled when Hope tabled her dance ideas and was briefly suspected of posting threatening messages on the HFTF web site. Emma soon found competition for Xander in the real culprit, Zoe Buckingham, Xander's ex-girlfriend from London. Emma accidentally injured a model during the HFTF showing and couldn't believe it when Zoe showed up to model the showstopper instead. Emma tried and failed to get Zoe fired when Forrester officially made her one of their models. Emma grudgingly agreed to Xander's request to get along with Zoe for the sake of their respective positions at Forrester, but Emma secretly fumed every time she saw Xander and Zoe working together.
Emma was touched when Xander set up a romantic cabana scene for them, but Emma wasn't ready to lose her virginity to him. Increasingly jealous of Zoe, Emma listened when her friend Tiffany insinuated she'd also been that way with a former love interest, Jonathan. Emma had enough when Xander and Zoe were selected to model sexy sleepwear for Forrester's Intimates line; though Xander wanted to celebrate his success with Emma, Emma told him she'd decided to focus on her work and her dancing instead of being in any relationship. Later, it was said that Emma was working part-time while in school, though it was not clear whether Emma had given up her internship at Forrester.
Before long, Emma was able to accept Xander's reunion with Zoe and even auditioned for a TV talent show as a girl group with Zoe and best friend Tiffany. Months later, Emma walked in and overheard Zoe and Xander arguing about whether or not to tell Hope that her baby, Beth, whom Hope believed had died, was actually alive and being raised by Hope's on-and-off romantic rival, Steffy Forrester. Though Emma was menaced by Steffy's brother, Thomas Forrester, to keep quiet, Emma stood her ground and rushed off to tell Hope the truth. Racing down a dark highway, Emma tried to compose a text to Hope, but lost control of her car after being closely followed by another; Emma crashed through a guardrail and died when her car rolled down an embankment.
Post a Comment
Share on Facebook
Tweet this
Submit Feedback