Edward "Ned" Lawrence Quartermaine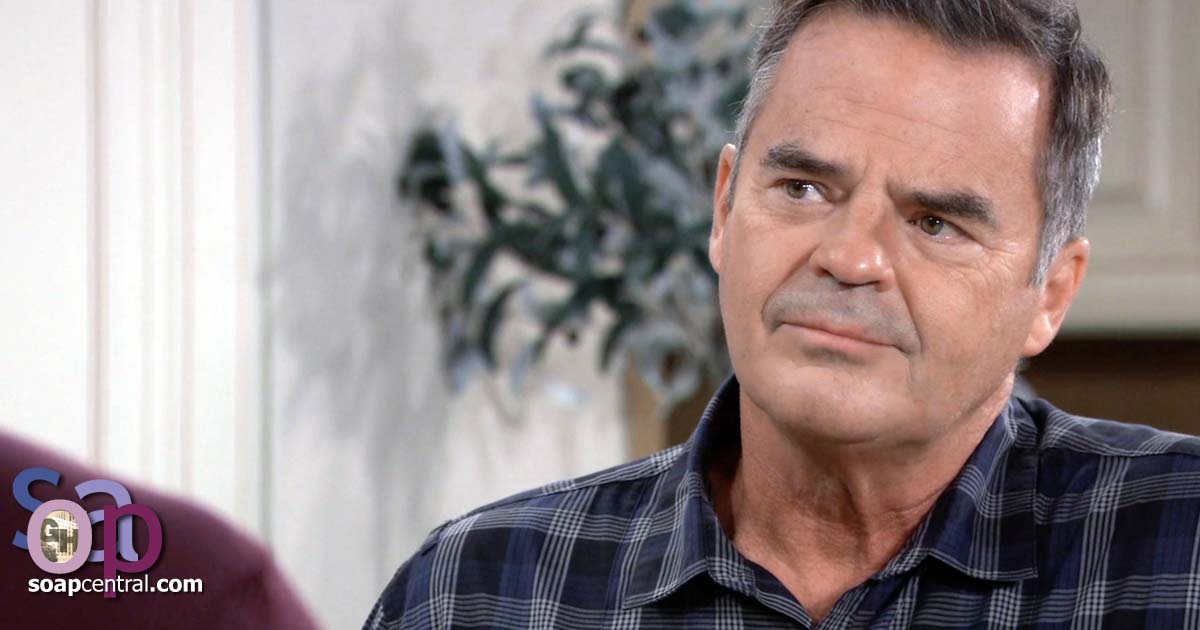 1988 to August 30, 1991
Eddie Maine (alias)
Edward Ashton (legal name prior to May 2017)
Ned Ashton
C.E.O. of L&B Records
Former CEO of ELQ
Singer/songwriter
Former ELQ shareholder
Former tennis instructor at Green Meadows Spa
66 Harbor View Road (Quartermaine Mansion)
Formerly New York, New York
Formerly 321 Harbor View Road, Port Charles, New York (Quartermaine Gatehouse)
Single/Divorced (Chloe Morgan)
Jenny Eckert (divorced)
Lois Cerullo (divorced)
Katherine Bell (invalid)
Lois Cerullo (divorced)
Chloe Morgan (divorced; deceased)
Larry Ashton (father)
Tracy Quartermaine (mother)
Dillon Quartermaine (maternal half-brother)
Edward Quartermaine (maternal grandfather; deceased)
Lila Morgan (maternal grandmother; deceased)
George Quartermaine (paternal great-grandfather; deceased)
Ida Quartermaine (paternal great-grandmother; deceased)
Harold Morgan (paternal great-grandfather; deceased)
Alan Quartermaine Sr. (maternal uncle; deceased)
Charlie Prince (paternal half-uncle)
Bradley Ward (maternal half-uncle; deceased)
Jimmy Lee Holt (maternal half-uncle)
Alan "A.J." Quartermaine Jr. (maternal cousin; deceased)
Jason Morgan (maternal cousin; presumed deceased)
Robert "Franco" Frank (maternal cousin; deceased)
Emily Bowen Quartermaine (maternal adoptive cousin; deceased)
Skye Chandler Quartermaine (maternal adoptive cousin)
Justus Ward (maternal half-cousin; deceased)
Faith Ward (maternal half-cousin)
Herbert Quartermaine (paternal great-uncle)
Michael Corinthos, III (maternal first cousin once removed)
Jacob Martin Spencer (maternal first cousin once removed)
Daniel Edward Morgan (maternal first cousin once removed)
Alexandria Quartermaine (paternal first cousin once removed)
Quentin Quartermaine (paternal first cousin once removed)
Celia Quartermaine (paternal first cousin twice removed)
Lila Rae Quartermaine (maternal adoptive cousin once removed)
Brook Lynn Ashton (daughter; with Lois)
Monica Quartermaine (lovers)
Dawn Winthrop (engaged; deceased)
Julia Barrett (lovers)
Alexis Davis (engaged)
Kristina Cassadine (lovers; deceased)
Faith Rosco (lovers)
Skye Chandler Quartermaine (dated)
Olivia Falconeri (kissed)
Alexis Davis (lovers)
Sent Paul on a wild goose chase in search of baby Dillon in order to have Jenny to himself
Set it up to appear that he was the one driving the car instead of a drunken A.J. when Jason was brain damaged.
Bigamy; married Katherine Bell while still married to Lois Cerullo
Lied to Sonny Corinthos about the paternity of his daughter, Kristina. [winter 2002]
Accused of sexually assaulting a young woman in 1994, while working as Eddie Maine; not guilty [Sep 2003; charges dropped]
Attempted to bribe the fire marshal into covering up the cause of the PC Hotel fire [2004]
Injured while trying to rescue Kristina from the burning Gatehouse
In 1988, Ned was working at Green Meadow Spa under the name of Ward, and Monica Quartermaine happened to be a guest there. They had an affair unaware that she was his aunt by marriage. When he appeared in Port Charles he tried to rekindle the fiery romance with Monica before he became attracted to Monica's long lost daughter Dawn Winthrop and had to vie with Decker Moss for her attention. They were to be married, but on their wedding day Dawn found out about his affair with Monica and called off the wedding. Monica and Ned were forced to tell the entire family about their affair and Alan physically attacked Ned.
Ned met the fiery redhead Jenny Eckert while morning the death of Dawn. Although they butted heads ferociously at first, Ned ended up falling for her. But Jenny was really in love with Paul Hornsby, even though at the time Paul was married to Ned's mother Tracy. When Ned married Jenny, he believed her to be a virgin because that's what she had told him. But later on in the marriage, it came to light that she had had an affair with Senator Kensington and had suffered a miscarriage. Ned could not forgive her dishonesty and they were divorced. Ned sought comfort in the arms of Julia Barrett, but the affair cooled when Julia saw that Ned still wanted his ex-wife. Ned severed the affair completely upon discovering that Julia had been sleeping with A.J. as well. Ned schemed to win back Jenny by sending Paul on a wild goose chase to find Paul and Tracy's son Dillon. But when Jenny found out what Ned had done, she dumped him and ran after Paul. When Ned's old pal Damian Smith came to town, they began frequenting a local karaoke bar. They also made plans for ELQ to build a toxic waste incinerator. But Edward and A.J. balked at the potential political and social dilemmas it could bring. So Damian and Ned bought the property in order to sell it to ELQ for a huge profit. But Damian turned out to be involved with the mob.
In 1993, Ned met the manager of the band The Idle Rich, Lois Cerullo. She convinced him, or rather Eddie Maine, (the name he was going by) to get up on stage and sing. For the next year he led a double life, shuffling the blackmailing Katherine Bell as Ned Ashton and Lois, the love of his life, as Eddie Maine. He married both of them, but when Lois found out about Katherine, she left Ned. Ultimately he divorced Katherine, and in time Lois forgave him and they were married. When she became pregnant however, she realized that the Quartermaines were not the type of family she wanted to raise her child around. Despite Ned's attempts at focusing on Lois and his singing career, Edward kept trying to force Ned back to focusing on business and the family. Edward even stole L&B Records from Ned and Lois. Lois sought help from Jax, who showed interest in her as more than a business partner. Lois distracted Jax with Brenda and returned to being happy with Ned. However when Ned resumed his post as CEO of ELQ to help fend off a takeover by Tracy and Jax, Lois left him and went home to Brooklyn with their daughter, Brook Lynn Ashton.
In 1996 Ned met high powered attorney Alexis Davis, who was representing Monica in the Dorman sexual harassment trial. The two became good friends as Ned helped Alexis with the trial, and Alexis helped Ned deal with his divorce. Ned and Alexis found a common bond through their position in their respective families as the "Gatekeeper". The two began dating, but they ran into a few problems in their relationship. First, Ned thought that Alexis was in on her family's take over of ELQ Ja.k.arta. But when Ned discovered she had nothing to do with it, he forgave her and they reunited. They staged a breakup to make his family believe they hated each other in order for Alexis to be hired as ELQ general counsel. But when Alexis defended Tony in his kidnapping trial, Ned felt betrayed. Even after Alexis revealed that Helena had threatened her into defending Tony, Ned found it difficult to trust her. They finally reconciled the night Ned sang a song to her.
Brenda's death in a car accident hit Ned hard and he sought refuge in a newfound friendship with Brenda's fiancé Jax. Alexis and Ned went to Monte Carlo where Jax was trying to win back the fortune he had lost to the Feds. Back home, Jax and Ned's friendship deepened as Jax returned to the corporate world and defended Ned to the Quartermaines. Despite V's persistence in the matter, Ned refused to return to being Eddie Maine. He was grateful for Alexis' support of his decision. But he found it difficult to support her when she went after Cassadine Industries and refused his help. So he helped her in the background as best he could. Ned was scared when Jax and Alexis had reportedly crashed in the desert and desperately searched for them. He was overjoyed to finally find them and to hear Alexis give up her quest for her share of the Cassadine fortune. Inspired by old love letters between Edward and Lila, Ned finally confessed his love to Alexis and she returned his feelings. Soon after, Edward named A.J. as CEO of ELQ and Ned washed his hands of the Quartermaines. With Alexis by his side, Ned refused all of Edward's pleading to fight for the CEO position and to return to the family.
When friend Chloe Morgan was in danger of losing her company due to a bizarre stipulation in her Uncle Herbert's will requiring that she marry by a certain time, Ned gallantly stepped up to the plate, with the blessing of Alexis. In a strange turn of events, Alexis ended up marrying Jasper Jax, who was falling in love with Chloe at the time. For eight months, the foursome played the mixed marrieds game, pretending to be happily wedded to their spouses while being with the ones they loved in secret. They had many close calls with Edward and Gertrude over the following months and became concerned more than once that the married couples were developing real feelings for each other. The merger of L&B Records with Chloe's company took their minds off the situation for a little while. But they soon grew tired of the situation and sought a way out. When Alexis discovered that if Gertrude remarried she couldn't get to Chloe's company, the foursome set out to find a match for Gertrude. But the plan was abandoned when Chloe was hit by a car driven by Helena who had intended to hit Alexis. Grateful that Alexis was alive, Ned swallowed his fear of being hurt and gave Alexis a ring. The plan was finally foiled when Aunt Gertrude, widow of Uncle Herbert set to inherit Chloe's company if she was not happily wedded, caught Chloe and Jax together and snagged the company. The false couples finalized their divorces after realizing that there was nothing more they could do.
With Ned and Alexis happily and publicly together again, Ned decided to restart his music career as Eddie Maine in order to save L&B from bankruptcy. One night while on tour in Detroit, Ned returned to his hotel room with an interviewer and camera crew doing a story on "A Day in the Life of Eddie Maine." All was going well, that is until Ned opened the door to find Alexis waiting on the bed for him wearing nothing but a teddy and holding a rose in her teeth. Affectionately nicknamed "Eddie's Angel", Alexis could do nothing to escape the press, fan letters, Internet sites, and emails. Attempting to end the fiasco, Ned proposed to Alexis thinking that if they were married, the press would leave them alone. Unfortunately, he was proven wrong when their private wedding in Belize was discovered.
Ned then decided that the best way to get rid of the press was to give them exactly what they wanted, a publicized wedding. After reluctantly agreeing, Alexis and wedding planner Elton arranged a big public wedding complete with press. After many obstacles, they finally made it to the wedding day. As Nikolas escorted her down the aisle, Alexis began to have nightmares about becoming a Quartermaine wife, and fled.
Ned tried to live without Alexis and even planned a tour to the other side of the world to distract him. But the night her learned that Alexis and Emily had been shot at, he rushed to be with Alexis. Their happy reunion was short-lived and quickly dissolved into constant fighting. Ned felt that Alexis was choosing her career over him and Alexis was trying to deal with her fear of commitment and marriage. In late 2000, they decided to call an end to their four-year relationship and went their separate ways.
In 2001, Ned severed all ties to ELQ and devoted himself to running L&B Records. Ned pursued new acts for L&B and left his relationship with Alexis behind. When Jasper Jacks suddenly reappeared in Port Charles, Ned helped him out by hiding the mysterious Kristina at the Gate House. As it turned out, Kristina was the long-lost sister of Alexis Davis. Ned pursued Kristina for both romantic and professional reasons - he wanted her to be a singer in the L&B stable. Ned began a romantic relationship with Kristina, but he was still hung up on Alexis. When he discovered that Alexis was pregnant with mobster Sonny Corinthos' baby, he claimed to be the biological father so that the child could have a life outside of a crime family, and because Alexis wanted to keep the parentage a secret. Kristina was devastated by this news and when she found out Sonny was the real father, ran straight to tell him. She was killed when Sonny's warehouse exploded. Ned and Alexis were guilt-ridden and when the baby was born, she was named Kristina. Alexis began to come unglued due to baby Kristina being born premature. She barred everyone, including Ned, from seeing the infant. Ned was forced to blackmail her with the Sonny card in order for her to let him visit. Ned tried to visit as often as possible, while in his private life he carried on an affair with lady mobster Faith Rosco and conspired with her against Sonny. He dropped her very quickly upon realizing she was a psycho.
Ned grew quite attached to Kristina and when Alexis was convicted of murdering Luis Alcazar and sentenced to probation and intense psychological treatment (she claimed a split personality in the likeness of her late sister Kristina had killed Luis), Ned, as the father listed on the birth certificate, was granted custody. He tried to be fair to Alexis, even when Kristina was kidnapped and Alexis was the prime suspect (Ned's cousins A.J. and Skye were the true culprits, unbeknownst to him). But Alexis wanted Kristina all to herself and to help attain this goal, went to work for the Quartermaines by dressing in drag. "He" became Dobson the butler, trying "his" best to convince Ned to let Alexis be a part of the baby's life. Around this time, Ned began dating Skye (they'd found out they weren't really biological cousins) and Dobson was devoted to undermining the scheming and manipulative woman. Ultimately, Skye turned the tables and forced Dobson to confess that "he" was really Alexis. Ned was blindsided, but refused to press charges against Alexis, and blackmailed corrupt DA Scott Baldwin into doing the same. In spite of all this, Alexis remained unforgiving about Kristina, and began working with her brother Stefan Cassadine to get custody. Step one of the plan was to have a woman step forward to claim Ned had sexually assaulted her in his Eddie Maine days. Alexis soon had doubts regarding the plan, and the woman eventually confessed to making a false report. However, she fingered Alexis as the only one behind the plan so Ned sued Alexis for defamation of character and sought sole custody of Kristina. Skye was foaming at the mouth at the prospect of Alexis being completely cut out of Kristina's life and being able to have a family with Ned and Kristina. Ned floored everyone when, in the midst of the trial, he dropped the fight and gave full custody of Kristina to Alexis.
Ned then returned to being CEO of ELQ. But it wasn't long before A.J. absconded with all of ELQ's fortunes, leaving the family virtually broke. A few months later following the hotel fire, Ned partnered with his mother Tracy to help her become CEO of ELQ and in return she would split the profits with him. But her plan backfired and their partnership was quickly dissolved. So Ned decided to reopen L&B Records and hired Dillon as a music video director. He also advised Dillon to be up front with Georgie's parents about his intentions towards Georgie. L&B got a shot in the arm when Alcazar decided to invest in L&B to give his niece Sage a singing career.
The partnership would eventually dissolve when Mary Bishop murdered Sage after Brook Lynn and Georgie locked Sage in a meat-locker. Ned's interest in the music industry was renewed though so Ned's focus began shifting from ELQ business to L&B business. Eventually Lois would return to Port Charles and while they never rekindled their romance, they did remain business partners. When Lois returned to New York, Brook Lynn and then Ned ended up following her. All three currently work together in the music business. Ned drops in for visits occasionally but no longer calls Port Charles home.
Ned returned to Port Charles in 2012 when his grandfather passed away. He was shocked to learn that his presumed deceased cousin A.J. was actually alive. The cousins engaged in verbal sparring but briefly set their differences aside to mourn the loss of their grandfather.
A.J.'s unexpected death brought Ned back to town again. During the visit, Ned questioned his mother's decision to marry Luke Spencer. He feared that Luke's desire to be part of the Quartermaine family was motivated by greed and power instead of love. He also sensed that something was off with Luke and his suspicions were supported by Michael and his girlfriend Kiki. Ned advised his mother to safeguard her assets and the family company from Luke but she refused and married Luke in an impromptu ceremony. Ned countered her move by ousting her from ELQ and he arranged for Michael to replace her at the helm of the company. Tracy was furious with her son and demanded that he leave the Quartermaine family home. She also sided with Luke instead of Ned after he informed her that Luke had threatened his life at gunpoint. Ned's instincts regarding Luke and ELQ were proved correct after it was revealed that someone had been posing as Luke while the real Luke Spencer was held captive at a psychiatric care facility.
Though ELQ seemed to be stable, Ned remained in Port Charles and developed a friendship with Olivia Falconeri while he reconnected romantically with Alexis. Olivia shared that she had romantic feelings for Ned but he chose to remain with Alexis. Eventually Ned ended the relationship when he realized that Alexis remained in love with Julian Jerome. After the break-up, Ned considered moving on with Olivia but she confessed that she was pregnant as a result of one night with Julian. Both Ned and Olivia feared for the unborn child's safety due to Julian's involvement in organized crime.
As Olivia's pregnancy progressed, Julian suspected that he had fathered Olivia's child. Ned claimed that the child was his and he gave his ELQ shares away to ensure that the truth was not revealed. However, Olivia delivered a son prematurely and Julian learned that he was the father. In order to protect the infant, Ned and Olivia told everyone that the child had died. Instead, Ned sneaked the baby out of Port Charles and followed shortly after under the guise of L & B business.
Post a Comment
Share on Facebook
Tweet this
Submit Feedback