Dylan Shaw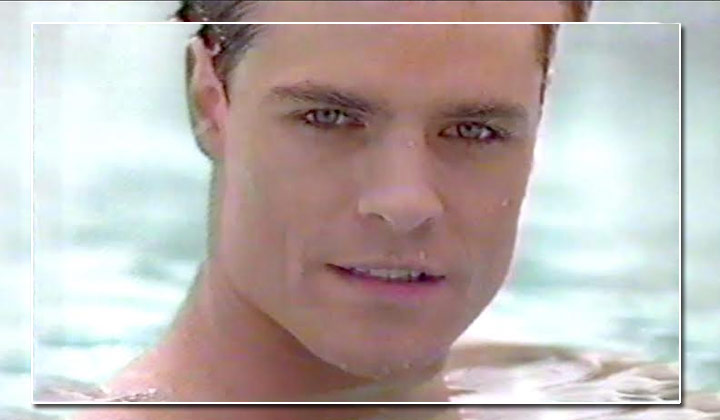 Said to be 20 in 1994, making date of birth 1974
Attended the Design Academy
Former stripper at the Beverly Hills Hideaway
Former designer at Spectra Fashions
Temporarily in charge of Spectra Fashions
Former intern at Forrester Creations
Attended the University of California, Los Angeles
Unknown
Formerly a Los Angeles apartment with Michael Lai
Formerly a Los Angeles dorm room
Unknown
None
Unknown
None known
Ivana Vanderveld (kissed)
Darla Einstein (kissed)
Michael Lai (kissed)
Arrested for the statutory rape of Jessica Forrester [1994]
Violated a judge's order to stay away from Jessica Forrester [1994]
Dated Jessica and her mother Maggie Forrester at the same time [1995]
Kept his job as a stripper from Jessica [1996]
Accidentally killed Sly Donovan [1996]
Slapped by Maggie Forrester [1995]
Brawled with Sly Donovan [1996]
Survived a bar fire and explosion [1996]
Dylan Shaw was a college student interested in fashion design who applied for a summer internship at prestigious design house Forrester Creations. Dylan impressed father-and-son design team Eric Forrester, co-founder of the company, and Ridge Forrester, but quickly ruffled feathers by going out with Ivana Vanderveld and violating Forrester's "no dating the models" policy. Dylan met Eric's young niece, Jessica Forrester, and befriended her, helping Ivana throw Jessica a party for her seventeenth birthday. When the naïve Jessica downed some Jell-O shots, Dylan saved Jessica from being taken advantage of by bartender Sly Donovan and gave her a birthday kiss.
Dylan started hanging out with Jessica and took her to L.A.'s famed Universal Studios theme park. Dylan began falling for Jessica but sent her flowers anonymously so she wouldn't get in trouble with her guardians, Eric and his wife Stephanie Forrester. Dylan's relationship with Jessica turned sexual; when Stephanie burst into Dylan's dorm room and caught him with Jessica, Dylan found himself arrested for statutory rape and had to spend the night in jail. Dylan was grateful when Ivana put up the bail he couldn't afford, especially because the incident had gotten him fired from Forrester.
Dylan got unexpected support from Forrester Creations' fashion rival, knockoff queen Sally Spectra, who not took pity on Dylan and gave him a job at her company, Spectra Fashions, but hired lawyer Connor Davis to defend him. Dylan continued to meet Jessica in secret even after a judge told him not to and stubbornly declared to Connor he wouldn't stay away from her. During his trial, Dylan agreed with Jessica's request to run away with her, but he thought better of it and took Jessica home while she slept. Dylan was found not guilty after the impressed Stephanie spoke to the court on his behalf. Dylan and Jessica decided to take things slowly after coming through their ordeal.
Dylan became concerned when Sally's daughter, singer Macy Alexander, began receiving threatening letters signed by "Irv." Talking to Sly, who seemed embittered because his bar wasn't doing well, Dylan spied Sly's job application and saw that his given name was Irving. Dylan then discovered that Ivana's full name was Ivana Richards Vanderveld, or I.R.V. Dylan reported these findings to Macy's fiancé, Thorne Forrester. After Thorne was arrested for Ivana's murder, Dylan became suspicious of Ivana's boyfriend, Spectra designer Anthony Armando, and snooped around Anthony's office, finding the same stationery that Macy's letters were written on. Dylan talked to Thorne in jail and told him Anthony was taking Macy to Mexico, which prompted Thorne to break out of jail; it turned out Anthony had killed Ivana and framed Thorne so he could have Macy for himself.
Dylan and Jessica put their relationship on hold and began seeing other people; Dylan shared kisses with Sally's receptionist, Darla Einstein, and was intrigued when his sight-unseen roommate Michael Lai turned out to be a girl. Meanwhile, Dylan met and fell for Maggie Forrester, not realizing she was Jessica's mother until Jessica brought Dylan home for dinner one night. Dylan and Maggie were about to tell Jessica the truth when Jessica fainted; Dylan learned that Jessica had been diagnosed with diabetes. Dylan consented to Michael's suggestion that she pretend to be Dylan's new girlfriend to throw Jessica off the scent, and kissed Michael after Maggie broke things off with him. Still, Dylan worried when Jessica started going out with Sly.
Dylan received another roommate and co-worker in the form of fledgling designer Jasmine Malone. Dylan couldn't shake the feeling Sly was fooling around with Jasmine and seeing Jessica at the same time. Dylan dated Michael for a while but decided he wanted Jessica back; Dylan became angry with Michael when she lied to Jessica that they were still an item after they'd broken up. Dylan found out that Sly, who needed money, had tried to get Jessica drunk so he could impregnate her using a ripped condom; Dylan kept his newly rekindled relationship with Jessica quiet and went along with Jessica's plan to pretend she actually was pregnant and force Sly to train for fatherhood using a special computerized doll.
Dylan wound up needing money himself when Sally was forced to let him go because Spectra Fashions was facing bankruptcy. Having trouble coming up with his rent, Dylan reluctantly took a job as a waiter at the Beverly Hills Hideaway, a strip club. Dylan didn't tell Jessica where he was working, then decided to give stripping a try himself because it made more money and he wanted to attend the very expensive Design Academy. Short of his tuition by $10,000, Dylan agreed to strip at private parties as long as he didn't have to have sex with the guests. Dylan was horrified when he ran into Sally's friend, department store maven Lauren Fenmore; Dylan begged Lauren not to tell the Forresters he'd become an exotic dancer and paled when Lauren suggested she'd stay mum if he'd be her personal sex slave.
With the deadline for the Design Academy's tuition upon him, Dylan seriously considered Lauren's offer to pay it off and went to her house to perform a routine for her. But when Lauren handed him a check and guided him to her bedroom, Dylan couldn't go through with it and left after tearing up the check. The next day, Dylan resigned himself to losing out on the Academy until he found out Lauren had paid his tuition. Dylan angrily told Lauren he didn't want to be beholden to her and was genuinely surprised when Lauren announced that she had only been testing Dylan's commitment to Jessica and that his refusal to cheat on her deserved a reward.
Lauren's gesture convinced Dylan to tell Jessica the truth about his employment. Dylan was hurt when Jessica left him, but happy when Jessica came back and said she'd talked to Lauren and found out how much integrity Dylan had. Dylan nervously honored Jessica's request to dance one more time at the Hideaway so she could see his routine and ended up having a great time. Dylan got into the advanced class at the Academy and felt everything was on the up-and-up -- except for Sly's involvement with the "pregnant" Jessica. Dylan was relieved when Sly admitted defeat with the training doll and left town for the sake of Jessica and the "baby", but worried when Jessica reported how upset Sly was upon coming back determined to be a father only to learn Jessica had been faking her pregnancy.
Dylan breathed easier when Sly visited and said he understood why Jessica did what she did, but Dylan became confused when Jessica started pushing him away. Dylan soon found out that Jessica had been raped and that she'd been afraid of his reaction. Dylan comforted Jessica, then talked to her therapist, Taylor Hayes, about his feelings of anger toward Jessica's attacker. Dylan realized that Jessica was raped the same day she told Sly she wasn't pregnant and raced to Sly's bar only to find that Sly had tied Jessica and Jasmine up and started a fire. Dylan freed the girls but was assaulted by Sly; as they brawled in the burning building, Dylan threw a chair at Sly, who fell back and was set ablaze. Dylan got Jasmine and Jessica about of the bar just before it exploded.
Dylan bid Jessica a sad goodbye when she decided she needed to go home to Iowa before accepting a scholarship at a school in London. Dylan was last seen at Maggie's wedding to psychiatrist James Warwick, where Dylan reassured a visiting Jessica everything would be all right after the notorious felon Sheila Carter interrupted the ceremony to announce she was pregnant with James' child.
Post a Comment
Share on Facebook
Tweet this
Submit Feedback