Stephen Logan, Sr.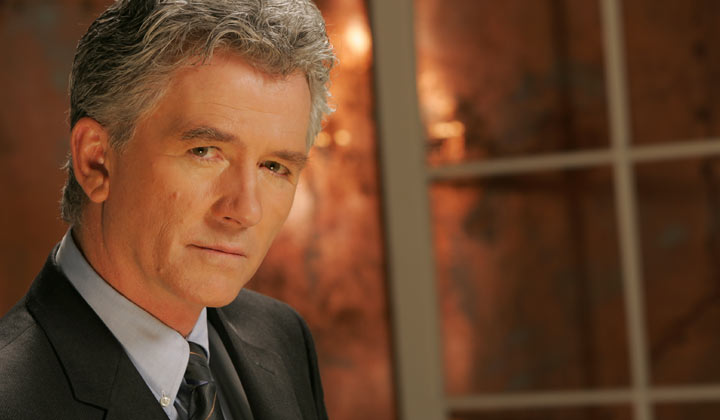 Robert Pine
March 18, 1988 to June 8, 1988;
September 30, 1994 to October 3, 1994;
December 31, 1997 to January 7, 1998;
January 12, 2001 to January 17, 2001;
September 17, 2001 to October 9, 2001 [recurring]
Patrick Duffy
Unknown
Formerly employed by Spencer Publications
Attended Northwestern University
Dallas, Texas
Formerly Los Angeles, CA
Formerly Paris, France
Formerly Arizona
Formerly Waterton Avenue, Sherman Oaks, CA
Single (assumed)/widowed
Beth Henderson [Married: 1960s; divorced: 2006]
Helen Logan (mother; deceased)
Florence Fulton (granddaughter)
Eric "Rick" Forrester Jr. (grandson)
Bridget Forrester (granddaughter)
Hope Logan (granddaughter)
Ridge "R.J." Forrester Jr. (grandson)
Marcus Walton Forrester (grandson)
William Logan Spencer (grandson)
Jack Hamilton Marone (biological grandson)
Eric Forrester III (great-grandson; stillborn)
Nicole Marone (great-granddaughter; stillborn)
Logan Knight (great-grandson)
Ambrosia "Rosie" Forrester (great-granddaughter)
Elizabeth Forrester (great-granddaughter)
Beth Avalon Spencer (great-granddaughter)
Storm Logan Jr. (son; 1964; deceased)
Brooke Logan (daughter; 1966)
Donna Logan (daughter; 1969)
Katie Logan (daughter; 1971)
Beth Henderson (engaged at the time of her death)
Pamela Douglas (broken engagement)
Abandoned his family after feeling his wife Beth Logan wasn't over Eric Forrester [1980]
Accepted $5 million from Massimo to make Brooke Logan move to Paris [2001]
Exaggerated his heart condition and lied that he was dying [2001]
Tried to throw Stephanie Forrester off a hotel balcony [2007]
Framed for shooting Stephanie Forrester [2007]
Suspected of poisoning Eric Forrester [2008]
Manipulated bipolar Pam Douglas and tried to make her shoot Stephanie Forrester [2010]
Did jail time for plotting to shoot Stephanie Forrester [2010]
Had a heart condition [2001]
Injured his shoulder being hit by a car [2010]
Recovering from an unspecified ailment [2017]
Stephen Logan is the patriarch of the Logan family who had four children by his wife, Beth Logan: three girls, Brooke, Donna, and Katie, and a son, Stephen Jr., whom the family called "Storm." Despite being the head of the household, Stephen always felt inferior to Beth's ex-boyfriend from college, successful designer Eric Forrester, and sensed that Beth had married Stephen on the rebound; when his kids were a little older, Stephen walked out on his family, causing them to resent him.
Stephen made his way to Arizona, where one day Brooke and Donna showed up on his doorstep based on an anonymous tip they had received. When Stephen complied with their request to come home, Stephen faced his family's fury, especially that of Storm, who'd had to fill the role of man of the house. Stephen worked to earn his family's forgiveness and saved Katie from choking at a barbecue; eventually Stephen was offered a job by publishing magnate Bill Spencer, Sr., who assigned Stephen to the Spencer Publications office in Paris. Stephen reunited with Beth and happily moved overseas with her, never knowing that Eric's wife, Stephanie Forrester, had located Stephen and arranged everything to keep the dissatisfied Eric away from Beth.
Stephen came home for Brooke's 1994 and 1998 weddings to her longtime love, Ridge Forrester. But in 2001, Stephen was approached by shipping tycoon Massimo Marone, an ex-lover of Stephanie's who wanted to help Stephanie get Brooke out of her life; Stephen was floored by Massimo's offer of $5 million to exaggerate his heart condition, tell Brooke he was dying, and get Brooke to move to Paris. Despite Beth's objections, Stephen took Massimo's money and convinced Brooke to make the trip. But when Brooke was hurt falling from the Eiffel Tower and Ridge flew to her bedside, Stephen, with Beth's prompting, admitted Massimo's scheme to Brooke and swore he just wanted to protect Brooke from the Forresters. It stung Stephen when Brooke left and said she wanted nothing more to do with him.
In 2006, at Ridge's behest, the newly divorced Stephen came to town to mend fences with Brooke and encourage her to reunite with Ridge, but he changed his mind after Ridge slept with Brooke while she was incapacitated from too much antianxiety medication. Stephen decided he'd prefer Brooke to be with her other beau, Ridge's half-brother Nick Marone, and flirted with Nick's mother, Jackie Marone. When Ridge had a heart attack and Stephanie suddenly championed Brooke, giving her 50% of Forrester Creations, Stephen smelled a rat and pushed for Ridge's ex-wife, Taylor Hayes, to sell him her 2% share in Forrester, which he would then give to Brooke, putting Brooke in charge as majority stockholder. Stephen celebrated by sleeping with Taylor when Brooke used her power to fire Ridge, Eric, and Stephanie, then slept with Jackie. When word got out about Stephen's antics, Stephen honored Brooke's request for him to leave town.
After Stephanie's attempt to push Brooke toward Andy Johnson resulted in Brooke being raped by Andy, Stephen furiously returned to L.A. and threatened Stephanie, trying to throw her off a hotel balcony. Stephen took heat from Storm, who was still angry about Stephen's abandonment. Then, Stephanie was shot after a fashion show, and Stephen was arrested when the gun was found in his suite; a photo of the shooter's hand also bore a ring that Stephen never took off. Stephen couldn't believe it when it was discovered that Storm had put on Stephen's ring to frame Stephen for the crime; Stephen was also aghast when Stephanie was only willing to let father and son go free if Stephen helped to tank Donna's new relationship with Eric. Stephen was released when Donna complied with Stephanie's demand to leave Eric; Stephen took Storm to Europe for help and to find Beth.
Stephen was in shock when Storm threatened Genoa City transplant Ashley Abbott with a gun and Katie was shot in the heart trying to stop him. After Storm shot himself to donate his heart to Katie, Stephen and his daughters mourned Storm's death. Stephen reconnected with Beth, telling her he was finally over his issues with Eric and that he still loved her. Yet Stephen couldn't help noticing that Beth wasn't quite herself and finally admitted to their children that Beth suffered a series of small strokes and was experiencing memory problems. Stephen and Beth met their grandson, Marcus Walton, at Nick's remarriage to their granddaughter, Bridget Forrester. Later, Stephen asked Beth to remarry him, and she accepted. Stephen and Beth were also on hand when Bill's son, Bill Spencer, Jr., married Katie and made her CEO of Forrester.
Stephen brought Beth back to Los Angeles in 2010 with the news that Beth's condition had deteriorated and that she could no longer be left unattended. Stephen happily accepted Donna's invitation to stay at the Forrester mansion with her and Eric, but was upset when fellow houseguest Stephanie voiced her objections. Stephen was devastated when Beth fell into the pool after an altercation with Stephanie and drowned because she had forgotten how to swim. Stephen descended into a deep depression and absent-mindedly walked into the path of an oncoming car, hurting his shoulder. Afterwards, Stephen vowed revenge on the Forresters and targeted Stephanie's sister, Pam Douglas, who had a history of violent behavior when off her medication for bipolar disorder. Stephen romanced Pam and persuaded her to stop taking her pills, then bought a gun from Mike Guthrie, who had once been the cohort of career criminal Sheila Carter.
When Stephanie dragged Pam to the Forrester cabin in Big Bear to talk her out of dating Stephen, he put the gun in the nearly catatonic Pam's hand and ordered her to shoot Stephanie. But Stephen took a bullet when Stephanie managed to ease the gun out of Pam's grip and shoot Stephen instead. Stephen went to jail, with Stephanie offering to ask the court for leniency only if Donna dropped her request for half of Eric's Forrester shares in their divorce. Stephen apologized to Pam, realizing he'd been out of his mind with grief, but admitting he was glad he got to know her. Stephen was set free after Pam testified that Stephen had never intended to murder Stephanie, and Stephen asked Pam for a chance to explore his real feelings for her.
Stephen attended Donna's wedding to Justin Barber with Pam in tow, which upset Donna because Pam had tried to kill Donna while under the influence of a brain mass. Stephen lamented his daughters' dislike of Pam but eventually earned their approval and even got Stephanie's blessing. Stephen also found common ground with Stephanie over their worry when Brooke went missing in a plane crash. Stephen consoled Brooke when she returned and was told she'd had sex with her stepson, Thomas Forrester, while hopped up on hallucinogenic berries they'd eaten to survive on a deserted island; Stephen couldn't believe it when he learned Stephanie had put Thomas up to lying about sleeping with Brooke in exchange for Stephanie's 25% stake in Forrester. Stephen came to Katie and Bill's vow renewal ceremony and advised Katie when Bill almost left her for Taylor's daughter, Steffy Forrester.
Stephen was last seen in 2011 happily discussing honeymoon plans with Pam, but later Pam said she and Stephen had broken up off-screen because of Stephanie's refusal to accept their relationship. Stephen has been said to be living in Dallas (a nod to most recent portrayer Patrick Duffy's tenure on the famed primetime soap), where Donna visited in 2015. In 2017, Stephen was reported as recovering from an unknown ailment with Donna at his side.
Post a Comment
Share on Facebook
Tweet this
Submit Feedback