Bridget Forrester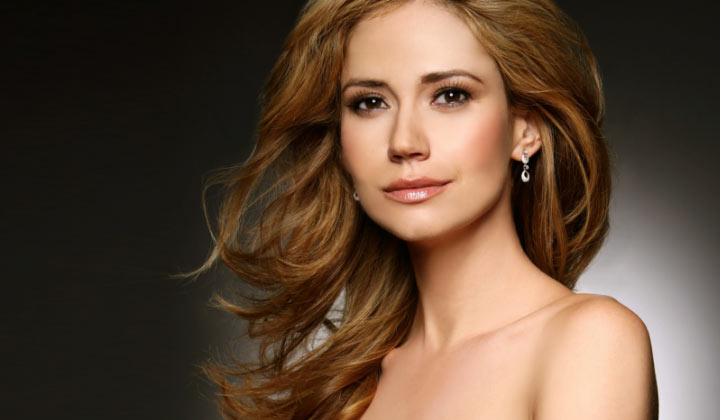 Juliet and Trevor Johnson
December 31, 1992 to early 1993
Julian Snider (backup baby)
1993 (never appeared on-screen)
Abigail and Danielle Burr
early 1993 to early 1994
Britany and Morgan Turner
early 1994 to early 1995
Caitlin Wachs
early 1995 to late 1995
Landry Albright
Agnes Bruckner
December 17, 2004
to
November 15, 2010
[contract];
October 18, 2011 to February 29, 2012 [recurring];
May 22, 2013 to May 24, 2013;
August 7, 2015 to August 10, 2015;
February 16, 2016 to February 19, 2016;
August 20, 2018 to August 22, 2018;
September 25, 2018;
March 26, 2020 to March 30, 2020;
November 2, 2020;
March 31, 2022 to July 1, 2022 [guest appearances]
Born on-screen December 31, 1992 in the Forrester cabin at Big Bear, CA
Said to be 13 in 1998
Said to be 18 in 2001
Doctor
Former fashion designer
Former waitress at Insomnia coffee house
Former model at Forrester Creations
New York City
Formerly the Marone Mansion, 68210 Rose Briar Place, Los Angeles, CA
Formerly the Forrester guest house, 369 Willow Hill Road, Beverly Hills, CA
Formerly an apartment above the Insomnia Café, Los Angeles, CA
Formerly a beach house owned by Taylor Hayes, Malibu, CA
Formerly the Logan Mansion (200 N. Beston Place, Holmby Hills, CA 90209)
Single
Deacon Sharpe [Married: 2001; divorced: 2002]
Nick Marone [Married: 2005; divorced: 2006; first time]
Nick Marone [Married: 2008; divorced: 2008; second time]
Nick Marone [Married: 2009; divorced: 2010; third time]
Eric Forrester, Sr. (father)
Brooke Logan (mother)
Eric "Rick" Forrester Jr. (brother)
Stephen Logan Sr. (grandfather)
Beth Henderson Logan (grandmother; deceased)
Helen Logan (great-grandmother; deceased)
John Forrester (uncle)
Storm Logan Jr. (uncle; deceased)
Donna Logan (aunt)
Katie Logan (aunt)
Jessica Forrester (cousin)
Ivy Forrester (cousin)
William Logan Spencer (cousin)
Eric Forrester III (nephew; deceased)
Elizabeth Forrester (niece)
Thorne Forrester (half-brother)
Kristen Forrester (half-sister)
Angela Forrester (half-sister; deceased)
Felicia Forrester (half-sister)
Hope Logan (half-sister)
Ridge "R.J" Forrester Jr. (half-brother)
Alexandria Forrester (half-niece; deceased)
Zende Forrester Dominguez (half-nephew via adoption)
Dominick Damiano (half-nephew)
Beth Avalon Spencer (half-niece)
Marcus Walton Forrester (cousin, via adoption)
Ambrosia "Rosie" Forrester (first cousin, once removed, via adoption)
Nicole Marone (daughter; with Nick; stillborn; 2005)
unnamed child (miscarriage; with Dante; 2006)
Logan Knight (son, with Owen; 2010)
Clarke "C.J" Garrison Jr. (dated)
Scott (blind date, kissed)
Mark Maclaine (dated)
Ridge Forrester (flirtation)
Oscar Marone (broken engagement)
Slapped her mother, Brooke Logan [1998]
Lied about having an abortion to prevent Nick Marone from returning to Brooke [2005]
Nearly arrested trying to take Felicia Forrester's baby to Italy [2006]
Had a one-night stand with the married Nick Marone [2006]
Had a one-night stand with the married Owen Knight [2010]
Hit with a stray bullet in drive-by shooting [1994]
Injured in car accident [2001]
Suffered concussion after falling and hitting her head [2003]
Attacked by a mobster [2003]
Nearly froze to death in a mine shaft [2005]
Fell and miscarried her baby with Nick Marone [2005]
Sustained a severe sunburn after Felicia Forrester switched her sunscreen with baby oil [2006]
Miscarried Dante Damiano's baby [2006]
Collapsed after learning Taylor Hayes had been implanted with Brooke Logan's egg [2007]
Bridget Forrester is the daughter of Brooke Logan and Eric Forrester of the Forrester Creations fashion dynasty. Because Brooke had slept with Eric's son, Ridge Forrester, while married to Eric, it was believed that Bridget was Ridge's child, which a paternity test confirmed; as a result, Bridget was named for Brooke and Ridge, who helped deliver Bridget at the Forrester cabin in Big Bear. As a toddler, Bridget found herself in the vicinity of a drive-by shooting at a park and was injured by a stray bullet.
Growing up, Bridget was confused when her mother disappeared and she was sent to live with Eric and his ex-wife, Stephanie Forrester. Bridget never knew that a mysterious letter implicated Brooke in fixing Bridget's paternity test (which had actually been tampered with by the notorious Sheila Carter), or that Stephanie was fighting to take custody of Bridget away from Brooke. Bridget was also kept in the dark about a new paternity test that named Eric as her father; Bridget had trouble adjusting to the fact that Eric was no longer her grandfather and that Ridge wasn't her daddy.
A teenaged Bridget ran away from home when Ridge left Brooke for his ex-wife, Taylor Hayes. While roaming the streets of Los Angeles, Bridget was mugged but ultimately rescued by C.J. Garrison, friend of her brother, Rick Forrester. After their babysitter, Amber Moore, got pregnant fooling around with Rick, Bridget offered Amber support.
Bridget openly opposed Brooke's relationship with Ridge's brother, Thorne Forrester. Bridget knew Rick's ex-girlfriend, Kimberly Fairchild, had a thing for Thorne, so when Bridget spied Kimberly kissing Thorne backstage at a Forrester fashion show, Bridget raised the curtain to publicly expose them and ruin Thorne's relationship with Brooke. Eventually, Bridget relented, giving Brooke and Thorne her blessing.
As Bridget turned eighteen, she fell under the spell of club owner Deacon Sharpe and married him in Las Vegas despite her family's insistence that Deacon was using her, which was true: Bridget didn't know that Deacon really wanted Amber and married Bridget as revenge for the Forresters supporting Amber's marriage to Rick. As Deacon took Bridget's virginity, Bridget had no idea he had arranged for her family to hear their lovemaking over the phone. When Bridget finally overheard Deacon discussing his plot with Amber, Bridget crashed her car and ended up in the hospital. Bridget gave Deacon another chance when he rushed to her bedside and admitted he had developed real feelings for her; Bridget turned the other cheek yet again when Deacon later confessed he'd been unfaithful to Bridget with a woman that wasn't Amber.
Bridget wanted to follow in her family's footsteps and become a fashion designer; for a time Bridget stepped in as the lead model for Amber's hot Ambrosia line. But, after renewing her vows with Deacon, Bridget became unsettled by the lack of intimacy in her marriage. Bridget supported her mother when it was revealed she was carrying Whip Jones' baby -- however, at Brooke's baby shower, Bridget heard Brooke and Deacon on a baby monitor discussing the affair they'd been having. Furious that her mother was pregnant with her husband's child, Bridget disowned Brooke and threw Deacon out of her life. Ironically, Bridget was on hand when Brooke went into labor at the Big Bear cabin, where Bridget herself had been born; Bridget and Stephanie helped Brooke deliver a baby girl. Seeing Brooke was trying to better herself, Bridget suggested naming the baby Hope.
Starting over, Bridget took a job at the Insomnia Café and enrolled in medical school. Bridget found herself intrigued by both C.J. and his half-brother Mark Maclaine, who mentored Bridget at the hospital. Bridget was devastated when Ridge's wife, Taylor, died from a gunshot wound inflicted by Sheila; Bridget stepped in to help care for Ridge and Taylor's children. In that role, Bridget traveled to Italy along with Stephanie's longtime friend, Massimo Marone. When Massimo objected to Ridge and Brooke finding their way back to each other, Bridget was blown away when her defense of Brooke led to Massimo slipping that Ridge was really his son, not Eric's. Bridget kept quiet, but as it sank in that she and Ridge weren't related, Bridget distanced herself from Ridge because she was fantasizing about him.
Bridget thought she solved the problem by accepting a medical internship in Copenhagen, but changed her mind after an experimental kiss with Ridge inspired feelings in her. Upset over desires she deemed inappropriate, Bridget got drunk at a bar and slept with Nick Marone, who turned out to be Ridge's half-brother. Bridget suffered a concussion from accidentally being shoved into a wall during a confrontation between Eric and Ridge. Bridget was uncomfortable seeing Nick dating Brooke, and Bridget's confusion increased as she accepted a marriage proposal from Oscar Marone despite having renewed feelings for Deacon.
Bridget and Oscar left for Amsterdam after their engagement party, but, some months later, Bridget returned alone, blaming Brooke and Deacon for her inability to maintain a relationship. Though she was intrigued by Nick, Bridget still had feelings for Ridge; during a skiing outing, Bridget fell into a mineshaft, as did Ridge, who was trying to rescue Bridget. When the freezing Bridget appeared to be on death's door, Ridge kissed her; no one knew that Amber had arranged for the buss to be photographed as revenge for Ridge ruining Amber's relationship with Ridge's son, Thomas Forrester. Bridget and Ridge were rescued by Nick, and soon Bridget began seeing Nick; Bridget accepted Nick's marriage proposal, though their wedding was halted by the sighting of the supposedly dead Taylor.
The pregnant Bridget worried that Taylor's return would free Brooke up for Nick, so Bridget tested Nick by lying that she'd had an abortion. After more unsuccessful attempts to marry, Bridget and Nick finally walked down the aisle, though Bridget took off her ring when Stephanie announced she could prove Nick was still in love with Brooke. Bridget also learned that Nick had fathered a child with her half-sister, Felicia Forrester; Bridget softened when she learned that Felicia was dying from cancer and offered to help raise Felicia's son.
Bridget fell off a chair while decorating the nursery and required surgery to keep her own baby; when Bridget miscarried their daughter, Nicole, Bridget set Nick free and resumed a relationship with Dante Damiano, whom she had dallied with in Europe. Although Bridget hoped that Felicia's baby would ease the pain of losing her own, it turned out that Dante, not Nick, was the child's father, and Felicia recovered from her illness. Bridget and Felicia agreed to raise baby Dino together, but Felicia's mother, Stephanie, nearly had Bridget arrested when Bridget and Dante tried to take Dino to Italy to meet Dante's family. Bridget was on the fence about accepting Dante's marriage proposal until Dante also popped the question to Felicia; Bridget and Felicia spent time sparring over Dante, which included Bridget sustaining a severe sunburn after Felicia switched Bridget's sunscreen with baby oil.
Bridget became a doctor and had a one-night stand with Nick, who was upset over wife Brooke's lingering feelings for Ridge. Realizing she was still in love with Nick, Bridget arranged to practice medicine in Africa, then found out she was pregnant. But Bridget was carrying Dante's child, not Nick's, and suffered a second miscarriage that left her wondering if she was meant to be a mother.
Bridget lent her support to Brooke, who had been viciously raped. Bridget was initially jealous of Nick's relationship with Taylor, but soon Bridget helped them have a baby via in vitro fertilization. Bridget collapsed when she learned that Taylor might have been implanted with Brooke's donated egg. When Taylor's newborn needed bone marrow and only Brooke was a match, Bridget felt Taylor's wrath and was blamed for the mix-up.
Though Bridget briefly battled Brooke for Nick, Bridget and Nick reunited and befriended Bridget's aunt, Katie Logan. Bridget blanched when she learned Katie kissed Nick, but Bridget and Nick weathered the storm. Bridget and Nick invited Katie, a heart recipient, to live with them; Bridget became concerned when Katie showed signs of rejecting the heart donated by Katie's brother, Storm Logan. Bridget, Nick, and Bridget's other aunt, Donna Logan, recreated Katie's prom when Katie appeared to be dying; Bridget found an experimental treatment and brought Katie back from the brink.
Bridget remarried Nick with Katie as their officiant, but gave her ring to Katie when it came out that Nick and Katie slept together to fulfill Katie's dying wish, and that Katie was pregnant with Nick's child. Bridget became interested in Donna's former assistant, Owen Knight, and joined Nick's disapproving mother, Jackie Marone, in stopping Nick's wedding to Katie. Bridget found herself in a triangle with Jackie and Owen, but accepted a position at Jackie's fashion house, Jackie M, as disguised mystery designer Madame X.
Bridget's fashion line was a hit; eventually Nick and Bridget found their way back to each other and married yet again, honeymooning in Hawaii, where they learned Jackie and Owen had also tied the knot. Bridget wanted to try for a baby with Nick, but her doctor warned her she would be unable to carry to term given her history of miscarriages, so Bridget and Nick had their embryo implanted in a surrogate, Sandy Sommers. Bridget befriended Sandy but was disillusioned when she discovered that Sandy was really Agnes "Aggie" Jones, sister of Whip Jones; Bridget was angry that Nick had kept Aggie's identity a secret and that Aggie had feelings for Nick.
Bridget antagonized Aggie and called her an incubator; their argument resulted in Aggie falling down the stairs and miscarrying. Bridget knew Nick blamed her and cried on Owen's shoulder, which led to Bridget and Owen making love; Bridget soon learned she was pregnant. Bridget found comfort in Owen's surprisingly understanding wife, Jackie, but Bridget's reunion with Nick was ruined by Aggie, who exposed Bridget's one-night stand to Nick. Bridget was humiliated when Nick forced her to sign divorce papers and announced Bridget's pregnancy by Owen to the Jackie M staff.
When Jackie suggested that she, Owen, and Bridget live together and raise Bridget's baby, Bridget accepted the offer. Bridget went into labor at her birthplace, the Big Bear cabin, and gave birth to baby Logan with Owen's help. Bridget admitted to Rick that she was falling in love with Owen but discouraged Rick from pursuing Jackie to free up Owen for Bridget.
Bridget was stunned when Jackie voluntarily released Owen so Bridget and Owen could be together and raise their child, but, after a time, Bridget and Owen realized they didn't belong together, and Bridget sent Owen back to Jackie. Bridget then faded into the background for over a year; when Bridget returned for a family dinner with Brooke, Eric, and Rick, Bridget revealed she had moved to New York and taken an apartment next to Jackie and Owen while maintaining a bicoastal medical practice. In 2015, Bridget flew to L.A. to attend Rick's wedding to Maya Avant, and, the following Christmas, Bridget intended to come home to visit Brooke, but inclement weather prevented her flight.
A couple of months later, Bridget came home for a visit, reminiscing with Eric, Rick, and Brooke while getting to know Maya. Bridget revealed that Jackie had left Owen to travel the world, but that Owen and Bridget were only raising the school-age Logan together. Bridget came home twice in 2018, once for half-sister Hope's most recent wedding to Liam Spencer, and once for her aunt Katie's wedding to Thorne. Bridget visited again in 2020 for a reunion party thrown by Ridge and Brooke, only to see a video of Brooke kissing her ex-husband, Bill Spencer, Jr. that was uploaded to a digital picture frame by her stepmother, Quinn Fuller, who had it out for Brooke; Bridget defended her mother against Quinn. Later that year, Bridget called in to congratulate Brooke and Ridge for reuniting and to express concern about Quinn still being in Eric's life.
In 2021, Bridget hit L.A. for a medical convention and offered thoughts on a who's-the-daddy situation that involved her half-sister, Hope Logan, Hope's husband, Liam Spencer, and Hope's long-time rival, Steffy Forrester. The following year, Bridget happened to be in town when Steffy was shot and left for dead in an apparent robbery along with her husband, John "Finn" Finnegan; Bridget treated the critically injured Steffy, not knowing that Steffy had been gunned down by former stepmother Sheila Carter, whom no one knew had tampered with Bridget's paternity test when Bridget was a baby. Though Steffy initially woke up thinking that Liam was her husband instead of the deceased Finn, Bridget was eventually satisfied enough with Steffy's progress that she let Steffy go home.
Bridget was later approached by her stepmother, Quinn Fuller, who was concerned about the heart rate registered by Eric via a smart ring that Quinn had given him. Bridget accompanied Quinn to a country club and was shocked to find the ring had spiked because her father was in bed with his ex-wife, Donna Logan.
Post a Comment
Share on Facebook
Tweet this
Submit Feedback