Passions Recaps: The week of July 22, 2002 on PS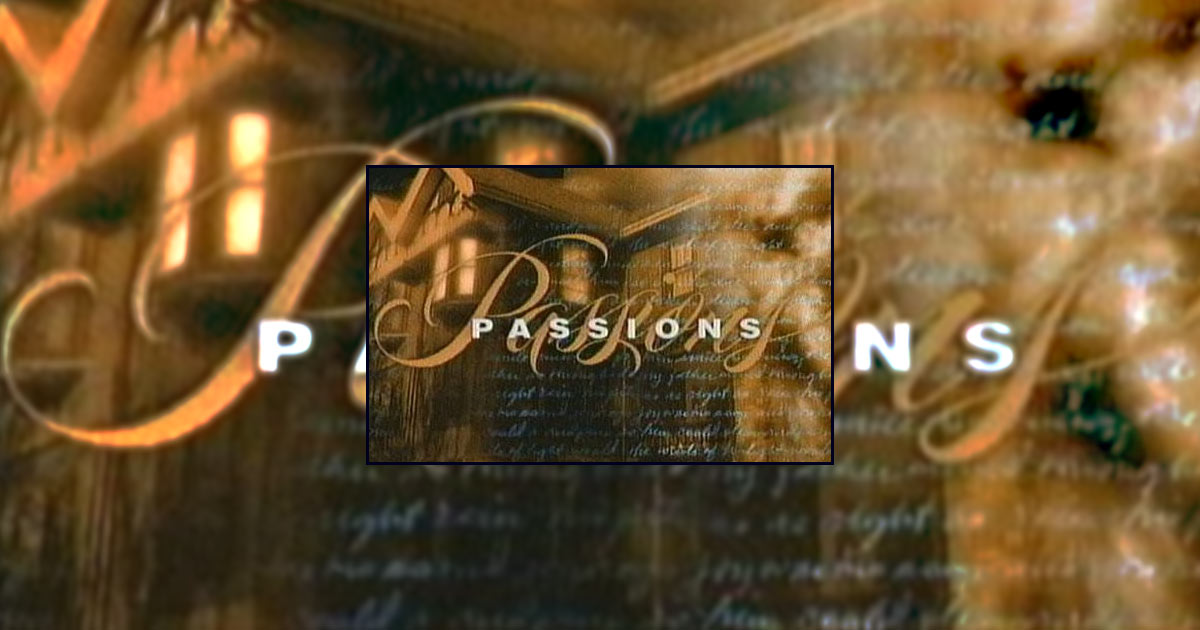 Monday, July 22, 2002
Timmy and Julian walk the streets of Harmony. Timmy reminds Julian that the Lopez-Fitzgerald family will want to kill him for allowing Theresa to "die."
The zombie corners Kay and they fight for the vial. Miguel walks in on the struggle. Kay hands over what she had in her hand that "Charity" claims is hers. Kay puts a rosary in the zombie's hand. The rosary burns her and the zombie recoils. She tells Kay to keep the rosary.
Miguel cannot believe how edgy his "Charity" seems to be. He tells Kay that Charity has changed and he does not think she is the person he wants to spend the rest of his life with. Kay toys with the idea of using the vial to get Miguel.
The zombie rushes to the cave where the real Charity is hidden. The real Charity has completely thawed and is unconscious but out of the cave. The zombie curses Timmy because she knows he is getting closer to Harmony.
Simone apologizes to Whitney as Whitney feels very guilty. Simone promises to never doubt Whitney's intentions and knows that her sister would never go after Chad. Jessica knows what is going on and urges Chad to tell the truth.
The doctor tells Brian that he is gravely ill. Brian leaves the hospital anyway and does not tell Diana about his condition. They head for Harmony.
Luis claims to have seen Theresa rise out of her coffin.
Kay uses the vial and pours the essence of Charity all over her.
The real Charity prays for Timmy to hurry so she can fight the zombie.
Tuesday, July 23, 2002
The real Charity and the zombie face off in the cave. The real Charity tries to stall for time, hoping that Timmy will save her. The zombie turns into her ugly, evil demon self, tormenting Charity by telling her that she will kill Miguel.
Tabitha is thrilled to have her Timmy back home. As they look into the ancient scroll, they see the real Charity locked in battle with the zombie. Timmy says he must rescue his Charity but Tabby has other plans. She locks Timmy in the attic in order to keep him safe. Timmy has escape on his mind and is determined to free himself and Charity.
Miguel and Kay begin to make love. Miguel only sees Charity when he looks at Kay. Kay doesn't care that Miguel thinks she is Charity. She feels once she makes love to Miguel, he will see that she is the right girl for him.
Ivy and Rebecca hide in Ivy's room from the evil Theresa. Rebecca is sure that Theresa is a ghoul, one of the undead. They both fear that she will come after them. Julian arrives home and goes to take a leisurely bath. Phyllis the maid sees Julian and is speechless. She goes to Theresa's coffin and says "Mrs. Crane you died for nothing. Mr. Crane is alive and went to take a bath. He is going to live the good life."
Theresa gets up out of her coffin and begins to prowl the mansion. She vows Julian won't be alive for long. She walks in on Julian's bath. She tries to electrocute him by throwing his radio in the tub, but he gets out just in time. She realizes that he went to his bedroom when h she hears both Rebecca and Julian scream. She grabs a razor and promises to take care of both Rebecca and Julian.
Wednesday, July 24, 2002
Timmy escapes the attic and runs to help Charity. Charity does her best to hold off the zombie but gets blasted so hard that it knocks her out of the cave. Timmy finds her there. He gets angry and holds up the demon's horn, ready to do battle with the evil zombie.
Tabitha tells Toto that she is grateful for all he did to help keep her Timmy alive. She reminisces all of her past good times With Timmy. She is determined to take Timmy far away from Harmony to keep him safe.
Rebecca and Julian scream until they realize that they are in the same bed together. Rebecca tells her "Pookey" that she saw him on TV and knew he was alive. They begin to make love. Rebecca sees Theresa standing in the doorway of the bathroom holding a razor. She screams until Julian goes to investigate. She tells Julian that Theresa has been "haunting" both her and Ivy. Julian asks Rebecca if she is seeing Theresa because of a guilty conscience.
Kay and Miguel make love. Jessica knocks on the door. Miguel realizes that he made love to Kay, not Charity. Kay says that things may not look as they seem due to the evil that has come back to Harmony. Jessica asks Kay what she knows about the evil.
Theresa was ready to kill Julian with the razor until a strange man injects her with a sedative and knocks her out. Rebecca tries to stop Julian from going into the bathroom because she is so terrified of Theresa. Julian walks in and sees nothing. Rebecca sees Theresa in the strange man's arms and watches him take Theresa into a secret passage in the wall. She tells Julian and he laughs at her. Rebecca then drags Julian to Theresa's coffin. Timmy with the power of the demon's horn begins to defeat the zombie. The zombie knocks the demon horn to the ground and then summons up her evil minions.
Julian is upset to hear that Theresa's coffin is in the living room of the mansion. The strange man puts Theresa in her coffin with Alistair sitting in the room. Alistair tells the man that he will make sure that Theresa never walks again and plunges a letter opener into Theresa's chest. The strange man asks, "Mr. Crane, what have you done?"
Charity and the zombie both begin to blast each other with lightning from their fingertips. The zombie begs the forces of darkness to let evil reign. She damns all the people of Harmony to hell.
An earthquake starts to rock the entire town of Harmony. The quake causes Julian to fall down the twisted staircase of the mansion.
Thursday, July 25, 2002
Brian pays off Nick. Nick tells Diana how sorry he was to hear about Brian. Brian comes up from behind and asks Nick why is he surprised to see him. He accuses Nick of tampering with his race car. Brian then lets it slip that he is going to make Diana a Lopez-Fitzgerald. Nick perks up. He asks Brian if he is related to Luis Lopez-Fitzgerald. Nick remembers reading that Luis was Sheridan Crane's fiancÚ. He gives Stan an evil smile and tells him he can't wait to see the look on Brian's face when he realizes his Diana is in love with his brother.
An earthquake hits Harmony. Tabitha runs to the cave to try to save her Timmy. Timmy, Charity along with the help of Kay, Jessica and Miguel defeat the zombie and dissolve her. Sam, Grace and Hank rush to the cave. They find both Charity and Timmy unconscious. Sam calls an ambulance. The paramedics tells Grace it does not look good for either Charity or Timmy. Tabitha rocks Timmy in her arms and cries. She tells Grace that she cannot lose the only person who really loves her. Grace's heart goes out to Tabitha.
Julian and Rebecca scramble into the living room to find Theresa in her coffin. Ivy walks in on them and tells Julian that he is as good as dead when Luis and Pilar see him. Ethan and Gwen come into the living room along with Pilar and Luis. Julian hides. As he tries to sneak out, he is spotted by Pilar and Luis. Luis goes after him, threatening to kill him for sure. as a scuffle breaks out, a lit candle falls into Theresa's coffin and her body catches on fire.
Brian and Diana give Liz a tearful goodbye and make her promise to attend their wedding. Nick tries to console a broken hearted Liz. He tells her that Brian's upcoming marriage is not written in stone. Liz tells him to go to hell. Brian and Diana board the plane that will take them to Harmony. Diana feels that her life will never be the same again. Jessica tells Kay that if Timmy or Charity dies, it will be all her fault.
Friday, July 26, 2002
Brian and Diana (a.k.a. Antonio and Sheridan) land in Harmony. Sheridan seems to remember more and more of her past as she walks the streets of Harmony. She is beginning to believe that she is from Harmony.
Charity and Timmy remain in critical condition. Miguel is too upset to talk to anyone, especially Kay. All he can think about is Charity getting well. Tabitha keeps vigil at Timmy's bedside. Eve has grave news for both Grace and Tabitha. It doesn't look like Charity or Timmy will pull through.
Simone and Jessica remain suspicious of Kay.
Julian causes Theresa's "body" to catch on fire. Ethan puts out the fire and closes the coffin.
Luis goes after Julian intent to kill. Pilar begs Ethan to stop Luis but Ethan plans on helping Luis kill Julian. Alistair steps in to stop the fight. Luis tells Alistair after he kills Julian he will be coming after him. Alistair tells Luis and Pilar that the violence is unnecessary and he has something that will make them happy. A shaky Theresa walks into the room. Everyone is stunned. Pilar and Luis say that prayers do get answered. Julian, Rebecca and Ivy look none too happy. Ethan is speechless and glad to see his former love. Gwen looks angry and hurt to see Theresa and Ethan together.
Alistair tells everyone he planned the fake execution so Julian would come out of hiding. He said he would not let a mother to a Crane heir die and since she would not recant her confession, he had to take drastic measures. Alistair tells Ethan that to him, blood means everything.
Rebecca and Ivy secretly panic over their fake tape and execution plan being exposed.
Julian takes his father aside and asks him exactly what it going on. Julian knows that Alistair is up to something.
Alistair will not let Julian in on his plan but tells him he has something in store for the Lopez-Fitzgerald family.